Ice Cream
Vanilla Ice Cream Without Ice CREAM Maker With Only 3 Ingredients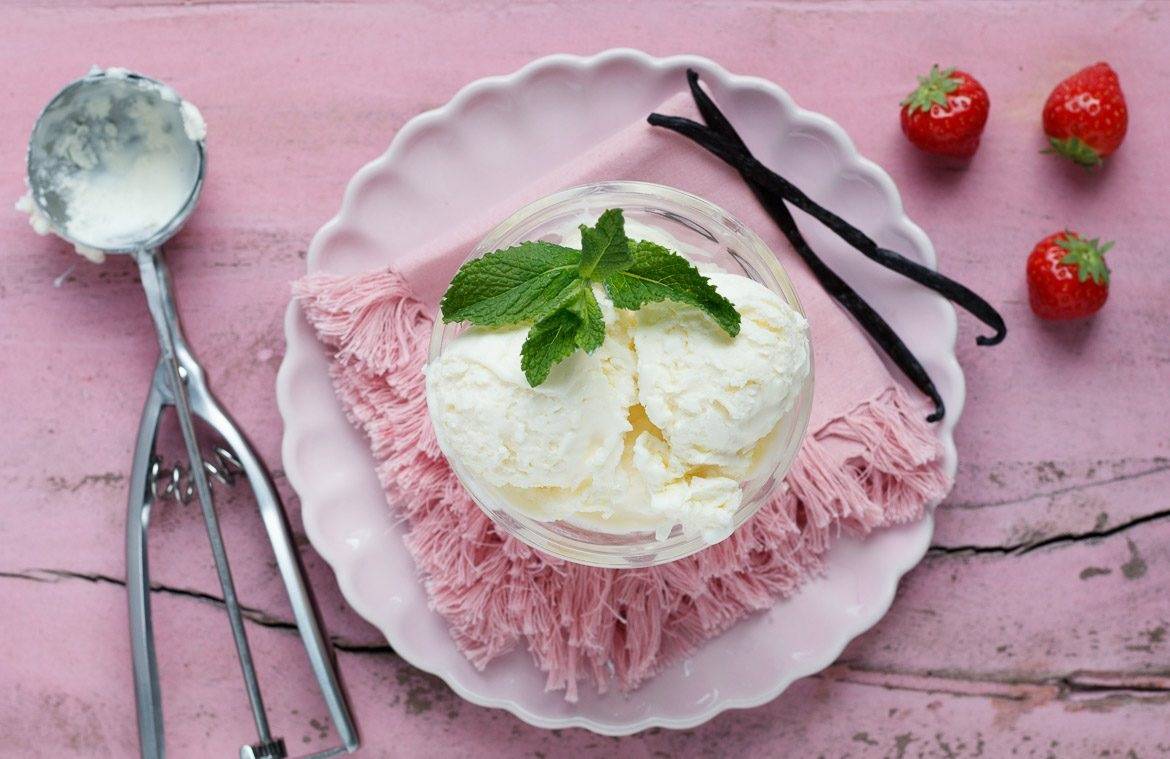 For me as a big ice cream fan, vanilla ice cream without an ice cream maker is  a magical affair, because you only need 3 ingredients  for it. In addition, it is incredibly delicious, creamy and ready to go. I own an ice cream machine myself, but still I often prepare the ice this way, because it's so easy and fast.
Alone my ice container of the ice maker has to cool for about 15 hours in the freezer, then the preparation of the ice cream plus the renewed cooling time. The ice cream production with the ice machine is therefore a matter of at least 1.5 days
THE VANILLA WITHOUT ICE MAKER HAS MANY ADVANTAGES
My vanilla ice cream without ice maker you have prepared in just 10 minutes and it then only 4-5 hours in the freezer. So also good as a dessert feasible, if guests spontaneously announced for the evening . If, however, your hair on your hackles, if you hear sweetened condensed milk, you do not need to continue reading , because sweetened condensed milk is one of the three ingredients.
But trust me – the creamy ice cream is just awesome!  By the way, sweetened condensed milk can be found in every well-stocked supermarket, usually in the vicinity of the coffee products.
HOW TO GET TO VANILLA WITHOUT ICE MAKING RECIPE
The recipe is from my stepdaughter Gerda. She was employed in our hometown of Würzburg for many years in the household of an American general. She got the recipe from this family and brought it to our family. Incidentally, I have nice memories of the time when the Americans were stationed in Würzburg. I especially like to remember the "German-American Friendship Week", which took place once a year. Since the US military area was made accessible to all and there was even a folk festival on which there were many treats from the US. These were at that time in the 80s not yet to get everywhere and something very special for us children, such as hamburgers, barbecue, corn on the cob with butter and marshmallows.
A CREAMY VANILLA ICE WITH MANY POSSIBILITIES
Incidentally, you can vary the vanilla ice cream without ice machine to your heart's content. For example, with crushed ore cookies, with crunchies of all kinds, with chopped chocolate, with pureed fruit, or, or, or ..
Gorgeous, I tel you! You have endless possibilities. If you feel like it, you can simply leave the vanilla ingredient in it or leave it alone.
---
Vanilla Ice Cream Without Ice Cream Maker With Only 3 Ingredients
PREPARATION 10 minutes TIME TOTAL 10 minutes PORTIONS 10 people
---
INGREDIENTS
400 g of sweetened condensed milk – eg from Dovgan or Milchmädchen
500 ml cream – at least 32%
1 tsp vanilla pod extract – or pith of a vanilla pod
---
MANUAL
THE ICE MUST BE MADE AFTER PREPARATION FOR APPROX. COOL FOR 4-5 HOURS IN THE FREEZER
1.You need a form that is freeze-proof and has at least 1.5 l capacity. You put that to pre-cooling in the freezer, while you prepare the ice cream. 
2.The sweetened condensed milk you give in a large mixing bowl. 
3.Then add the vanilla and stir it under the condensed milk. As I said a teaspoon vanilla pod extract or the marrow of a vanilla pod.
4.PLEASE NOTE: In this recipe step you can now vary to your heart's content instead of or in addition to the vanilla and stir another ingredient or two under the condensed milk. For example cookies, oat chocolates, chocolate chips or fruit puree or whatever you want.
5.Now beat the cream in another bowl with the hand mixer or food processor really well stiff, so that forms a nice solid little "mountains".
6.Now stir about 3 tablespoons of the whipped cream under the sweetened condensed milk mixture to loosen it up a bit.
7.Then you lift the rest of the stiff whipped cream, eg with a mixing spoon. 
8.Put your ice cream mixture in the pre-cooled casserole dish and refrigerate for about 4-5 hours in the freezer . Done .
9.Allow the ice to thaw for about 5 minutes before serving so that you can portion it more easily with the ice cream spoon or a table spoon
I wish you a good appetite!
---
WHAT DO YOU MEAN?
Did you try the recipe once? How do you find it? I am always happy about praise, friendly criticism or your tips and experiences. Let us stay in the exchange via the comment function below. I would be happy.