Poultry
Classic Chicken and Dumplings Recipe to Warm Your Soul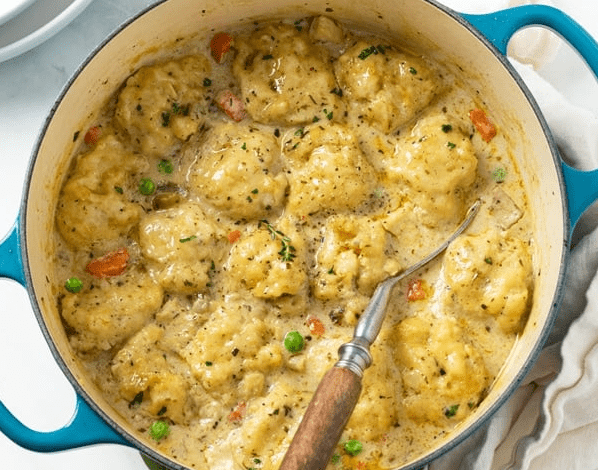 Chicken and dumplings is a classic comfort food dish that is perfect for a cozy night in or when you're feeling under the weather. This hearty dish consists of tender chicken and fluffy dumplings simmered in a rich, savory broth. In this article, we'll share our recipe for chicken and dumplings along with an ingredients table to make it easy for you to recreate this comforting meal at home.
Ingredients:
| Amount | Ingredient |
| --- | --- |
| 1 lb. | boneless, skinless chicken breasts or thighs |
| 6 cups | low-sodium chicken broth |
| 1 cup | all-purpose flour |
| 1/2 cup | unsalted butter, divided |
| 1/2 cup | milk or heavy cream |
| 2 | medium carrots, peeled and diced |
| 2 | celery stalks, diced |
| 1 | medium onion, diced |
| 2 cloves | garlic, minced |
| 1 tsp. | dried thyme |
| 1 tsp. | dried parsley |
| 1/2 tsp. | salt |
| 1/4 tsp. | black pepper |
| 1/4 tsp. | baking powder |
| 1/2 cup | whole milk |
Instructions:
In a large pot or Dutch oven, melt 1/4 cup of butter over medium heat. Add the diced onion, celery, and carrots and sauté for 5-7 minutes or until the vegetables are soft.
Add the minced garlic, dried thyme, dried parsley, salt, and black pepper and stir to combine.
Add the chicken broth and bring to a simmer.
Add the chicken to the pot and cover it with a lid. Simmer for 20-25 minutes or until the chicken is cooked through.
Remove the chicken from the pot and shred it into small pieces. Set aside.
In a small mixing bowl, combine the flour and baking powder.
Cut in the remaining 1/4 cup of butter until the mixture is crumbly.
Stir in the milk until a thick batter forms.
Drop spoonfuls of the batter into the simmering broth, making sure to leave enough room for the dumplings to expand. Cover the pot and simmer for 10-12 minutes or until the dumplings are cooked through.
Add the shredded chicken back to the pot along with the milk or heavy cream. Stir to combine and simmer for an additional 5-7 minutes or until the soup is heated through.
Serve hot and enjoy!