Poultry
How to Make Chicken Piccata: A Delicious and Easy Italian Recipe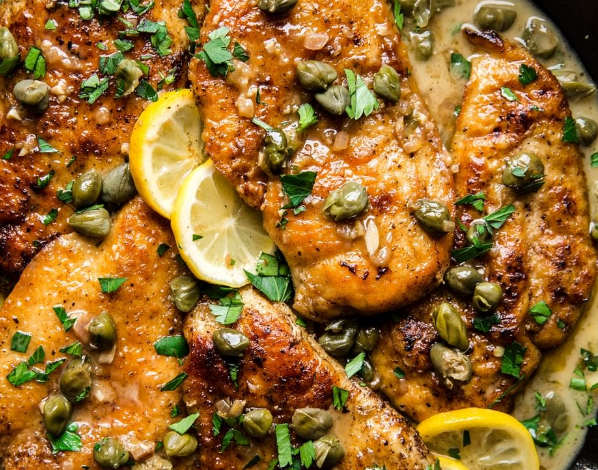 Chicken Piccata is a classic Italian dish that combines tender chicken cutlets with a tangy and savory sauce made with lemon, butter, and capers. This recipe is perfect for a weeknight dinner or a special occasion, and it only takes a few simple ingredients to make. In this article, we'll share with you the steps to make this delicious Chicken Piccata recipe.
Ingredients:
| Ingredients | Quantity |
| --- | --- |
| Boneless, skinless chicken breasts | 4 |
| All-purpose flour | 1/2 cup |
| Salt | To taste |
| Black pepper | To taste |
| Unsalted butter | 4 tbsp |
| Olive oil | 4 tbsp |
| Chicken broth | 1/2 cup |
| Fresh lemon juice | 1/4 cup |
| Capers | 1/4 cup |
| Fresh parsley, chopped | 1/4 cup |
Instructions:
Season the chicken breasts with salt and pepper, then dredge them in flour until coated evenly.
In a large skillet over medium-high heat, melt 2 tablespoons of butter with 2 tablespoons of olive oil. When the butter is foaming, add the chicken breasts and cook until golden brown on both sides, about 3-4 minutes per side.
Remove the chicken breasts from the skillet and set them aside on a plate.
Add the chicken broth, lemon juice, and capers to the skillet. Bring the mixture to a boil and scrape up any browned bits from the bottom of the pan.
Reduce the heat to medium-low and whisk in the remaining butter until it's melted and the sauce is smooth.
Add the chicken back to the skillet and spoon the sauce over it. Simmer for 2-3 minutes until the chicken is heated through and the sauce has thickened slightly.
Serve the chicken with the sauce spooned over it, and sprinkle with chopped parsley.
This Chicken Piccata recipe is sure to be a hit with your family and friends. It's easy to make but has a sophisticated and delicious flavor that will impress anyone. Enjoy!