Poultry
Spice Up Your Dinner with this Delicious Chicken Enchiladas Recipe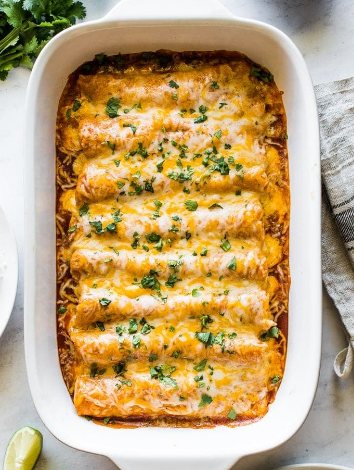 Chicken enchiladas are a crowd-pleasing dish that is easy to make and full of flavor. In this article, we'll share with you an easy and delicious Chicken Enchiladas recipe that you can make at home. These enchiladas are made with tender chicken, smoky spices, and melted cheese, all wrapped up in a soft tortilla. Get ready to spice up your dinner!
Ingredients:
| Ingredients | Quantity |
| --- | --- |
| Boneless, skinless chicken breasts | 1 lb |
| Olive oil | 1 tbsp |
| Onion, chopped | 1 |
| Garlic, minced | 2 cloves |
| Chili powder | 1 tbsp |
| Ground cumin | 1 tsp |
| Smoked paprika | 1/2 tsp |
| Cayenne pepper | 1/4 tsp |
| Salt | To taste |
| Pepper | To taste |
| Enchilada sauce | 1 can (10 oz) |
| Sour cream | 1/2 cup |
| Flour tortillas | 8 |
| Shredded cheddar cheese | 1 cup |
| Fresh cilantro, chopped | For garnish |
Instructions:
Preheat the oven to 375°F (190°C).
In a large skillet, heat the olive oil over medium heat. Add the chopped onion and garlic and cook until the onion is soft and translucent about 5 minutes.
Add the cooked and shredded chicken to the skillet and stir in the chili powder, cumin, smoked paprika, cayenne pepper, salt, and pepper. Cook for 2-3 minutes, until the chicken, is coated in the spices.
In a small bowl, whisk together the enchilada sauce and sour cream.
Spread a spoonful of the sauce mixture onto the bottom of a 9×13-inch baking dish.
Warm the tortillas in the microwave for 10-15 seconds or until pliable.
Spoon some of the chicken mixtures onto each tortilla and roll it up. Place the enchiladas seam-side down in the baking dish.
Pour the remaining sauce mixture over the enchiladas and sprinkle with shredded cheese.
Bake for 20-25 minutes or until the cheese is melted and bubbly.
Garnish with chopped fresh cilantro and serve hot.
This Chicken Enchiladas recipe is easy to make and is sure to be a hit with your family or guests. It's perfect for a weeknight dinner or a Mexican-themed party. Serve it with a side of Spanish rice and refried beans for a complete and satisfying meal.