Poultry
Impress Your Dinner Guests with this Classic Chicken Cordon Bleu Recipe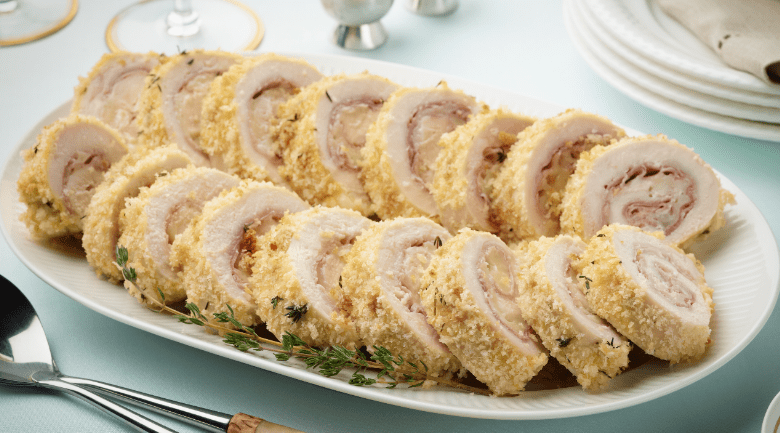 Chicken Cordon Bleu is a classic dish that is sure to impress your dinner guests. It's a perfect combination of tender chicken, salty ham, and creamy cheese, all rolled up into one delicious package. In this article, we'll share with you an easy and delicious Chicken Cordon Bleu recipe that you can make at home.
Ingredients:
| Ingredients | Quantity |
| --- | --- |
| Boneless, skinless chicken breasts | 4 |
| Salt | To taste |
| Pepper | To taste |
| Deli ham | 4 slices |
| Swiss cheese | 4 slices |
| All-purpose flour | 1/2 cup |
| Garlic powder | 1 tsp |
| Paprika | 1 tsp |
| Eggs, beaten | 2 |
| Bread crumbs | 1 cup |
| Grated Parmesan cheese | 1/2 cup |
| Butter melted | 2 tbsp |
Instructions:
Preheat the oven to 375°F (190°C).
Lay each chicken breast flat on a cutting board and season with salt and pepper. Place a slice of ham and a slice of Swiss cheese on top of each chicken breast.
Roll up each chicken breast tightly, tucking in the edges to seal.
In a shallow dish, combine the flour, garlic powder, and paprika. In another shallow dish, beat the eggs. In a third shallow dish, mix together the bread crumbs and Parmesan cheese.
Dip each chicken roll in the flour mixture, then in the egg mixture, and finally in the bread crumb mixture, pressing the bread crumbs onto the chicken to coat.
Place the chicken rolls in a greased baking dish and drizzle with melted butter.
Bake for 30-35 minutes, or until the chicken is cooked through and the bread crumbs are golden brown.
Serve hot and enjoy!
This Chicken Cordon Bleu recipe is easy to make and will impress anyone who tries it. It's a great option for a special dinner or for when you want to elevate your weeknight meal. Serve it with a side of roasted vegetables or a salad for a complete and satisfying meal.