Beef
Slow Cooker BBQ Beef Brisket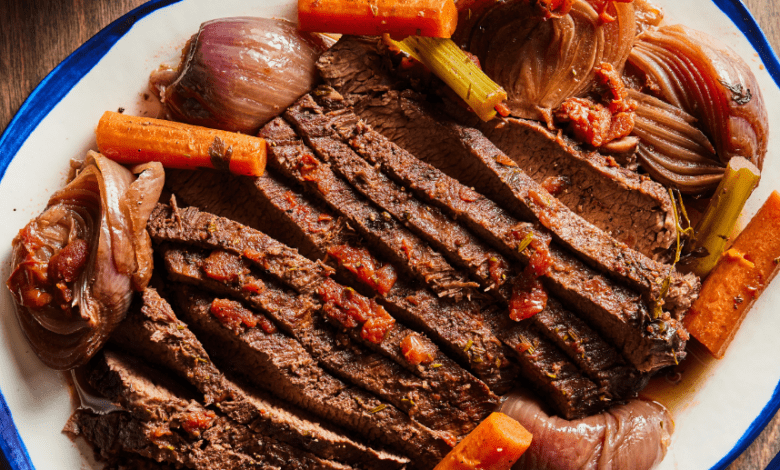 BBQ Beef Brisket Recipe
There's nothing quite like a slow-cooked bbq beef brisket to satisfy your hunger. This recipe is easy to follow and yields tender, flavorful beef every time. Whether you're serving it as a main dish or using it as a topping for sandwiches, this beef brisket is sure to be a hit.
Ingredients and Preparation
Ingredients:
| Ingredient | Amount |
| --- | --- |
| Beef brisket | 4-5 pound |
| Olive oil | 1/4 cup |
| Paprika | 2 tablespoons |
| Garlic powder | 2 teaspoons |
| Onion powder | 2 teaspoons |
| Salt | 2 teaspoons |
| Black pepper | 1 teaspoon |
| Beef broth | 1 cup |
| BBQ sauce | 1 cup |
Preparation:
In a small bowl, mix together the olive oil, paprika, garlic powder, onion powder, salt, and pepper. Rub the mixture all over the brisket.
Place the brisket in the slow cooker. Pour the beef broth and BBQ sauce over the top of the brisket. Cover and cook on low for 8-10 hours, or until the brisket is tender and easily shreds with a fork.
Remove the brisket from the slow cooker and place it on a cutting board. Using two forks, shred the brisket into small pieces. Return the shredded beef to the slow cooker and stir in any accumulated juices.
Serve the beef brisket with additional BBQ sauce, if desired.