Beef
Beef Stroganoff Recipe: Tender, Juicy, and Flavorful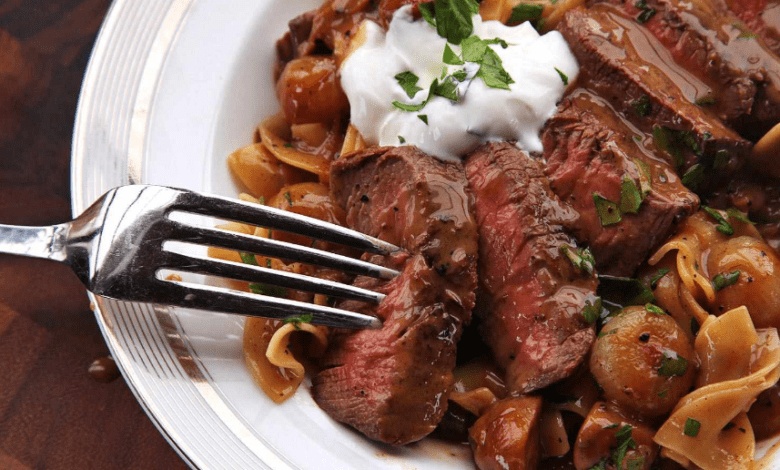 Beef Stroganoff Recipe: Tender, Juicy, and Flavorful
Beef stroganoff is a classic comfort food that's perfect for a cozy night in. If you want to make tender, juicy, and flavorful beef stroganoff at home, this recipe is for you. With just a few simple ingredients and a bit of technique, you'll be able to whip up a batch of this hearty and delicious dish in no time. Here's how to do it:
Ingredients:
| Ingredient | Quantity |
| --- | --- |
| Beef Tenderloin | 1 pound |
| Olive Oil | 2 tablespoons |
| Onion | 1 medium |
| Garlic Clove | 1 |
| Beef Broth | 1 cup |
| Sour Cream | 1 cup |
| Dijon Mustard | 1 tablespoon |
| Worcestershire Sauce | 1 tablespoon |
| Paprika | 1 teaspoon |
| Salt | 1/2 teaspoon |
| Black Pepper | 1/4 teaspoon |
| Pasta | 8 ounces |
Instructions:
In a large skillet, heat the olive oil over medium-high heat.
Add the beef and cook until it's browned on all sides.
Remove the beef from the skillet and set it aside.
In the same skillet, add the onion and garlic and sauté until they're tender about 5 minutes.
Return the beef to the skillet and add the beef broth, sour cream, Dijon mustard, Worcestershire sauce, paprika, salt, and pepper.
Bring the mixture to a boil, then reduce the heat to low and simmer for 10 minutes, or until the beef is tender.
Serve the beef stroganoff over the cooked pasta.
Tips:
For extra flavor, try adding your favorite seasonings to the beef stroganoff. Some ideas include thyme, rosemary, and parsley.
If you'd like to make this recipe into a slow cooker beef stroganoff, simply place all of the ingredients in a slow cooker and cook on low for 6-8 hours, or until the beef is tender.
For a healthier option, try using a leaner cut of beef such as sirloin or filet mignon.
This beef stroganoff recipe is sure to become a family favorite. It's easy to make, tender, juicy, and packed with flavor. Give it a try and enjoy!