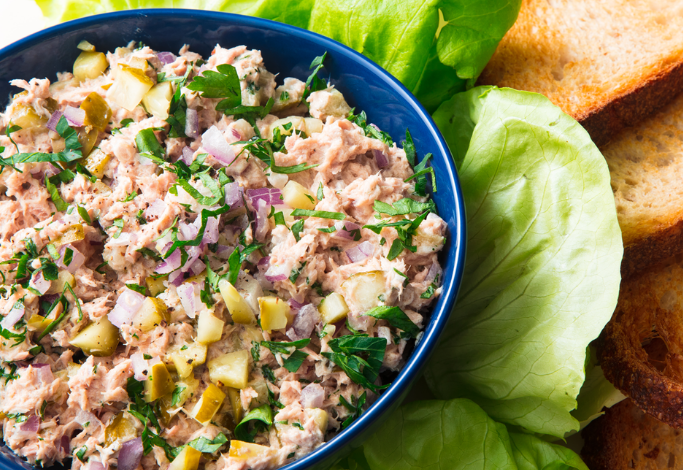 Tuna salad is a classic dish that's perfect for a quick and easy lunch or dinner. This versatile recipe can be customized to suit your taste preferences, and it's packed with protein and other important nutrients. In this article, we'll share a recipe for a delicious and healthy tuna salad that's sure to become a new favorite.
Ingredients:
| Quantity | Ingredients |
| --- | --- |
| 2 cans | Tuna, drained |
| 1/4 cup | Celery, diced |
| 1/4 cup | Red onion, diced |
| 1/4 cup | Plain Greek yogurt |
| 1/4 cup | Mayonnaise |
| 1 tablespoon | Lemon juice |
| Salt and pepper, to taste | |
Instructions:
In a large bowl, combine the drained tuna, diced celery, and diced red onion.
In a separate bowl, whisk together the plain Greek yogurt, mayonnaise, and lemon juice until smooth.
Pour the dressing over the tuna mixture and stir to combine.
Season the tuna salad with salt and pepper to taste.
Serve the tuna salad on a bed of lettuce or with crackers, bread, or pita.
This tuna salad recipe is a great option for anyone looking for a healthy and satisfying meal. Tuna is an excellent source of protein, which helps to build and repair muscles, and it's also rich in omega-3 fatty acids, which are essential for brain health.
Greek yogurt is a healthy alternative to traditional mayonnaise and adds a tangy flavor to the salad. It's also high in protein and calcium, which are important for maintaining strong bones and muscles.
To add some extra flavor and nutrition to your tuna salad, try adding some chopped fresh herbs like parsley, dill, or cilantro. You can also add some chopped vegetables like bell peppers, cucumbers, or tomatoes for some extra crunch.