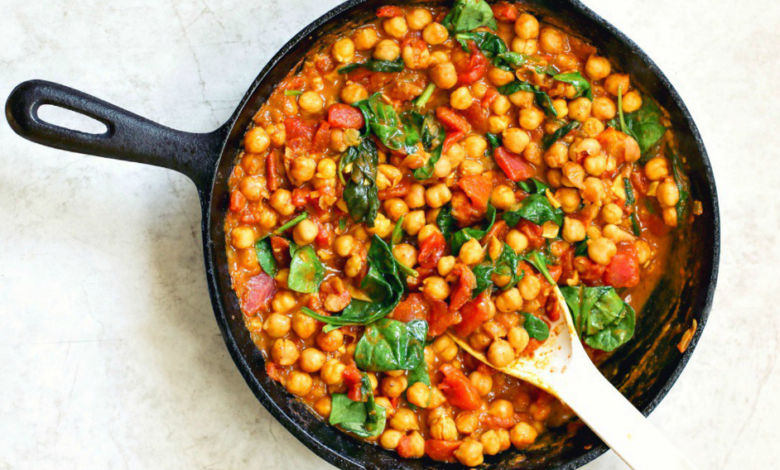 If you are looking for a healthy and flavorful vegetarian curry recipe, look no further than this spinach and chickpea curry. It is packed with protein and nutrients, making it a perfect choice for a delicious and nutritious meal. This recipe is easy to prepare and can be served with rice or naan bread for a complete meal. Ingredients:
| Ingredients | Quantity |
| --- | --- |
| Olive oil | 2 tablespoons |
| Onion, diced | 1 medium |
| Garlic cloves, minced | 3 cloves |
| Fresh ginger, grated | 1 tablespoon |
| Ground cumin | 2 teaspoons |
| Ground coriander | 2 teaspoons |
| Turmeric | 1 teaspoon |
| Chili powder | 1/4 teaspoon |
| Salt | 1/2 teaspoon |
| Tomatoes, chopped | 2 medium |
| Chickpeas drained and rinsed | 2 cans |
| Spinach washed and chopped | 6 cups |
| Lemon juice | 1 tablespoon |
| Fresh cilantro, chopped | 1/4 cup |
Instructions:
Heat the oil in a large skillet over medium-high heat. Add the onion and cook until it is softened and lightly browned about 5 minutes.
Add the garlic, ginger, curry powder, cumin, coriander, turmeric, and cayenne pepper. Cook for 1-2 minutes until fragrant.
Add the chickpeas, diced tomatoes, water, salt, and black pepper. Bring to a boil, then reduce heat and simmer for 10-15 minutes.
Add the spinach leaves and stir until wilted, about 2-3 minutes.
Serve the curry with rice or naan bread.
This spinach and chickpea curry recipe is an excellent source of protein, fiber, and other essential nutrients. The combination of chickpeas and spinach provides a healthy dose of iron, while the spices add a delicious flavor and aroma. It is a perfect vegetarian option that is easy to make and can be customized to your taste preferences by adjusting the spices. In conclusion, this spinach and chickpea curry recipe is a nutritious and flavorful option for anyone looking for a healthy vegetarian meal. It is easy to prepare, and the combination of spices and vegetables makes it a perfect option for a hearty and satisfying meal. Try it today and enjoy a delicious and healthy dinner!