Diet & Proteins
Healthy Quinoa Salad Recipe with Roasted Vegetables and Feta Cheese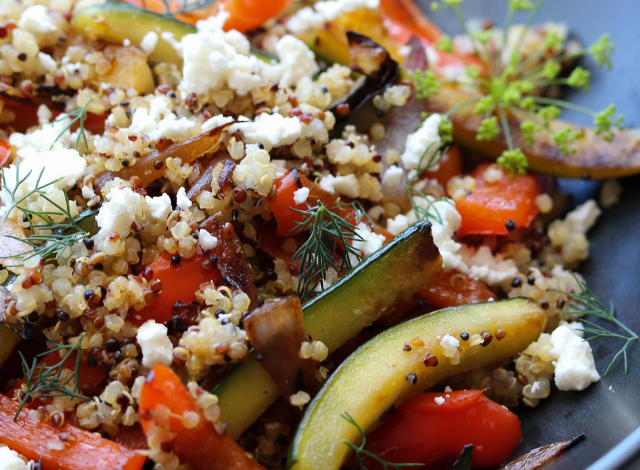 Quinoa is a superfood that has become increasingly popular in recent years due to its numerous health benefits. It is a complete protein, which means it contains all nine essential amino acids that our body cannot produce on its own. Quinoa is also high in fiber, iron, magnesium, and other essential nutrients. When combined with roasted vegetables and feta cheese, it makes a healthy and delicious salad that is perfect for any meal. Ingredients:
| Ingredients | Amount |
| --- | --- |
| Quinoa | 1 cup |
| Water | 2 cups |
| Sweet potato | 1 small, peeled and diced |
| Red bell pepper | 1, sliced |
| Zucchini | 1, sliced |
| Red onion | 1, sliced |
| Olive oil | 3 tablespoons |
| Salt | To taste |
| Black pepper | To taste |
| Feta cheese | 1/2 cup, crumbled |
| Fresh parsley | 2 tablespoons, chopped |
| Lemon juice | 2 tablespoons |
Preheat your oven to 400°F.
Rinse the quinoa in a fine-mesh strainer and transfer it to a medium saucepan. Add the water and bring it to a boil. Reduce the heat to low and simmer, covered, for 15-20 minutes, or until the quinoa is tender and the water is absorbed.
While the quinoa is cooking, place the sweet potato, bell pepper, zucchini, and onion on a baking sheet. Drizzle with olive oil and season with salt and black pepper. Toss to coat evenly.
Roast the vegetables in the oven for 20-25 minutes, or until they are tender and golden brown.
In a large bowl, combine the cooked quinoa, roasted vegetables, feta cheese, parsley, and lemon juice. Toss gently to combine.
Serve the quinoa salad warm or chilled. Garnish with additional parsley or feta cheese, if desired.
This quinoa salad with roasted vegetables and feta cheese is a nutritious and satisfying meal that is perfect for any occasion. It is also vegan and gluten-free, making it suitable for a wide range of dietary needs. You can customize this recipe by using your favorite vegetables or adding some protein like grilled chicken or tofu. Try it today and enjoy the delicious flavors and health benefits of quinoa!