Diet & Proteins
Healthy and Delicious Zucchini Noodles with Meat Sauce Recipe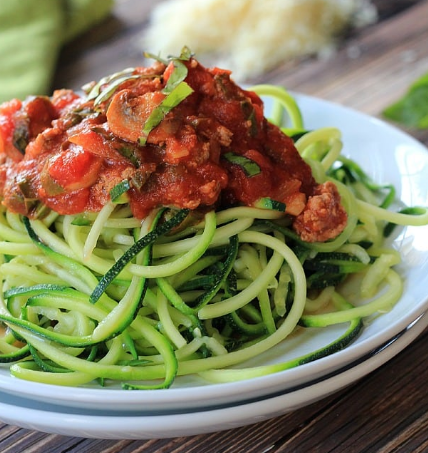 If you're looking for a healthy and delicious pasta alternative, zucchini noodles are a perfect choice. With this Zucchini Noodles with Meat Sauce recipe, you can enjoy the flavors and textures of traditional pasta dishes without the added calories and carbs. In this article, we will share with you our easy-to-follow recipe for Zucchini Noodles with Meat Sauce. Ingredients:
| Ingredient | Quantity |
| --- | --- |
| Zucchini | 4 |
| Ground beef | 1 pound |
| Onion, chopped | 1 |
| Garlic cloves, minced | 2 |
| Crushed tomatoes | 28 oz can |
| Tomato paste | 2 tbsp |
| Dried basil | 1 tbsp |
| Dried oregano | 1 tbsp |
| Salt and pepper | To taste |
| Olive oil | 2 tbsp |
| Parmesan cheese, grated | For topping |
Instructions:
Start by making the zucchini noodles. Cut off the ends of the zucchini and use a spiralizer to create long, thin noodles. Set aside.
In a large skillet, heat the olive oil over medium heat.
Add the chopped onion and minced garlic and sauté until fragrant, about 2-3 minutes.
Add the ground beef to the skillet and cook until browned, breaking up any large chunks with a spatula.
Add the crushed tomatoes, tomato paste, dried basil, dried oregano, salt, and pepper to the skillet. Mix well.
Simmer the meat sauce for 10-15 minutes until it has thickened.
While the sauce is simmering, heat another skillet over medium heat and add the zucchini noodles. Sauté the noodles for 3-4 minutes until they are just tender.
Serve the zucchini noodles topped with the meat sauce and grated Parmesan cheese.