Diet & Proteins
Greek Salad with Feta and Olives: A Classic Mediterranean Delight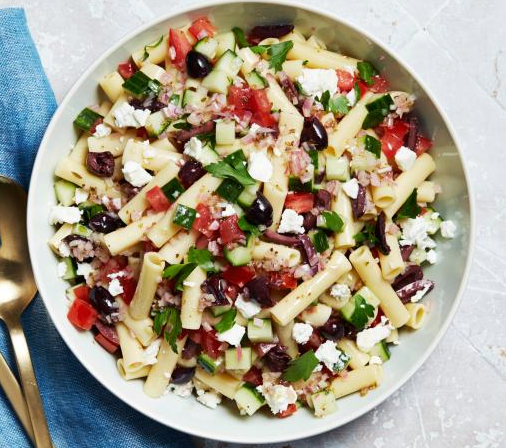 Are you looking for a healthy and delicious salad recipe? Look no further than the classic Greek salad! This colorful salad is bursting with fresh vegetables, salty feta cheese, and briny olives, all dressed in a simple olive oil and lemon dressing. Ingredients:
| Quantity | Ingredients |
| --- | --- |
| 2 | Large Tomatoes, chopped |
| 1 | Cucumber, chopped |
| 1 | Red Onion, thinly sliced |
| 1 | Green Bell Pepper, chopped |
| 1 | Red Bell Pepper, chopped |
| 1 cup | Kalamata Olives |
| 4 ounces | Feta Cheese, crumbled |
| 1/4 cup | Extra Virgin Olive Oil |
| 1/4 cup | Fresh Lemon Juice |
| 1/2 teaspoon | Dried Oregano |
| Salt and Pepper | to taste |
Instructions:
In a large bowl, combine the chopped tomatoes, cucumber, red onion, green and red bell peppers, and kalamata olives.
In a small bowl, whisk together the olive oil, lemon juice, oregano, salt, and pepper.
Drizzle the dressing over the salad and toss gently to combine.
Top the salad with crumbled feta cheese.
Serve immediately, or refrigerate until ready to serve.
This Greek salad is a great way to enjoy the flavors of the Mediterranean and is perfect for a light lunch or as a side dish for a dinner party. Fresh vegetables provide a great source of vitamins and fiber, while olives and feta cheese add healthy fats and protein to keep you feeling full and satisfied. In addition to being healthy and delicious, this Greek salad recipe is also easy to customize to your tastes. You can add other vegetables such as radishes, carrots, or even roasted eggplant. You can also adjust the amount of dressing to your liking or use a different type of vinegar such as red wine vinegar or balsamic vinegar.