Diet & Proteins
Grilled Chicken with Avocado Salsa Recipe: A Healthy and Flavorful Meal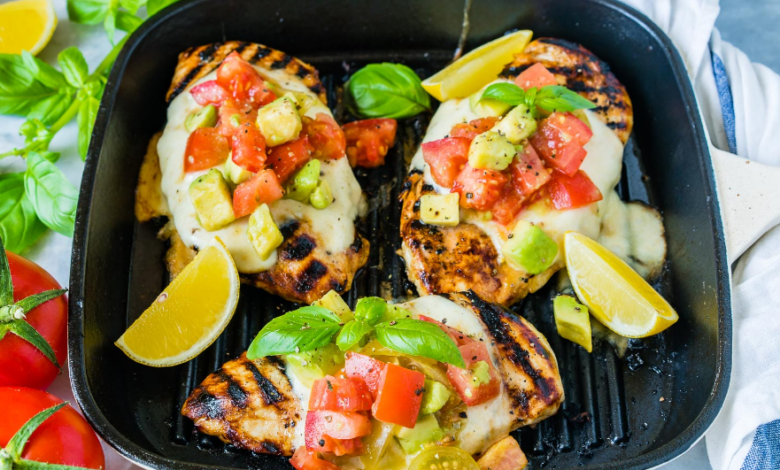 Grilled chicken with avocado salsa is a healthy and delicious meal that's perfect for summer. This recipe is easy to make and can be ready in under 30 minutes. The chicken is marinated in a mixture of olive oil, garlic, cumin, and paprika, which gives it a smoky and slightly spicy flavor. The avocado salsa is made with ripe avocados, fresh tomatoes, red onion, and cilantro, and is seasoned with lime juice and salt. The combination of grilled chicken and the refreshing avocado salsa makes for a perfect summer dish. Ingredients:
| Ingredients | Quantity |
| --- | --- |
| Boneless, skinless chicken breasts | 4 |
| Olive oil | 2 tbsp |
| Salt | 1 tsp |
| Pepper | 1/2 tsp |
| Avocado | 2 |
| Plum tomatoes | 2 |
| Red onion | 1/4 cup |
| Lime juice | 2 tbsp |
| Fresh cilantro | 2 tbsp |
| Jalapeno pepper | 1/2 |
| Garlic | 1 clove |
Instructions:
Preheat the grill to medium-high heat.
In a small bowl, mix the olive oil, garlic, cumin, paprika, salt, and pepper.
Brush the chicken breasts with the spice mixture and let marinate for at least 15 minutes.
While the chicken is marinating, prepare the avocado salsa. In a medium bowl, combine the diced avocados, tomato, red onion, cilantro, lime juice, salt, and pepper.
Grill the chicken for about 6-8 minutes per side, or until the internal temperature reaches 165°F.
Serve the grilled chicken with the avocado salsa on top.
This grilled chicken with avocado salsa recipe is not only delicious but also nutritious. It's paleo-friendly and a great source of protein and healthy fats. The avocado salsa provides a good dose of fiber and vitamins, making this dish a complete and balanced meal. Plus, it's perfect for meal prepping and can be enjoyed for lunch or dinner throughout the week.