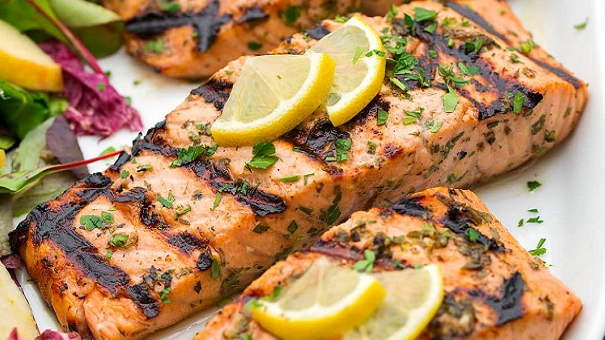 Grilled fish is a healthy and delicious way to enjoy seafood. It is quick and easy to prepare and can be seasoned with a variety of herbs and spices for a burst of flavor. In this article, we will share a recipe for grilled fish with lemon and herbs that is sure to please your taste buds. Ingredients:
| Quantity | Ingredients |
| --- | --- |
| 4 | Fish Fillets (such as salmon or tilapia) |
| 1/4 cup | Fresh Lemon Juice |
| 2 tablespoons | Olive Oil |
| 1 teaspoon | Dried Oregano |
| 1 teaspoon | Dried Thyme |
| Salt and Pepper | to taste |
| Lemon Wedges | for serving |
| Fresh Herbs (such as parsley, cilantro, or dill) | for garnish |
Instructions:
Preheat your grill to medium-high heat.
In a small bowl, whisk together the lemon juice, olive oil, oregano, thyme, salt, and pepper.
Brush the fish fillets with the marinade on both sides.
Place the fish on the grill and cook for 3-4 minutes per side, or until cooked through.
Remove the fish from the grill and transfer to a serving plate.
Garnish the fish with fresh herbs and lemon wedges.
Serve immediately, with your favorite side dishes.
This grilled fish with lemon and herbs is a great way to enjoy seafood while staying healthy. The fresh lemon juice adds a tangy flavor, while the herbs provide a savory aroma. Fish is also a great source of protein, omega-3 fatty acids, and other essential nutrients. In addition to being healthy and delicious, this grilled fish recipe is also easy to customize to your own tastes. You can use different types of fish, such as cod, halibut, or swordfish. You can also adjust the amount of herbs and spices to your liking, or add other ingredients such as garlic, onion, or chili flakes for a different flavor.