Diet & Proteins
Easy Baked Sweet Potato Fries Recipe for a Healthy Snack or Side Dish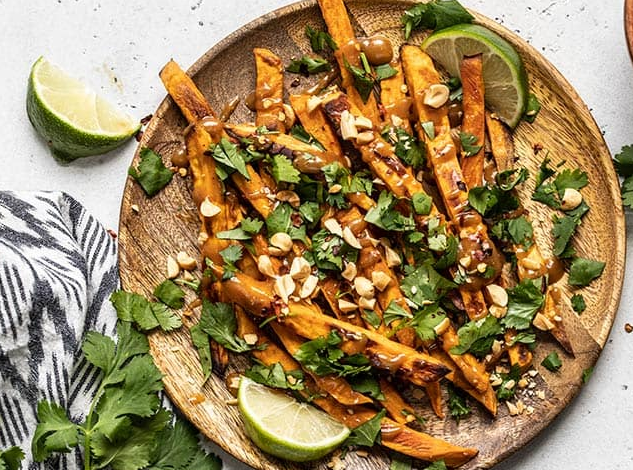 Sweet potatoes are nutrient-dense root vegetable that is loaded with vitamins, minerals, and antioxidants. They are also low in calories and high in fiber, making them an excellent choice for anyone looking to improve their diet. One of the best ways to enjoy sweet potatoes is by making baked sweet potato fries, which are crispy on the outside and tender on the inside. In this article, we'll share a simple and delicious recipe for baked sweet potato fries that you can make at home.
Ingredients:
| Ingredients | Amount |
| --- | --- |
| Sweet potatoes | 2 large |
| Cornstarch | 2 tablespoons |
| Olive oil | 2 tablespoons |
| Paprika | 1 teaspoon |
| Garlic powder | 1/2 teaspoon |
| Salt | To taste |
| Black pepper | To taste |
Instructions:
Preheat your oven to 425°F.
Wash the sweet potatoes and pat them dry with a paper towel. Cut them into long, thin strips, about 1/4 inch wide.
In a large bowl, whisk together the cornstarch, olive oil, paprika, garlic powder, salt, and black pepper.
Add the sweet potato strips to the bowl and toss to coat them evenly with the cornstarch mixture.
Arrange the sweet potato fries on a baking sheet lined with parchment paper, making sure they are not touching each other.
Bake the sweet potato fries in the preheated oven for 20-25 minutes, or until they are crispy and golden brown.
Remove the baking sheet from the oven and let the fries cool for a few minutes before serving.
This recipe for baked sweet potato fries is a healthy and delicious alternative to traditional French fries. They are easy to make, and you can customize the seasoning to your liking. You can also dip them in your favorite sauce, such as ketchup, mayo, or aioli. They are perfect as a snack, side dish, or even a main course. Plus, they are vegan and gluten-free, making them suitable for a wide range of dietary needs.