Custard
Egg Custard Tart: A Traditional British Dessert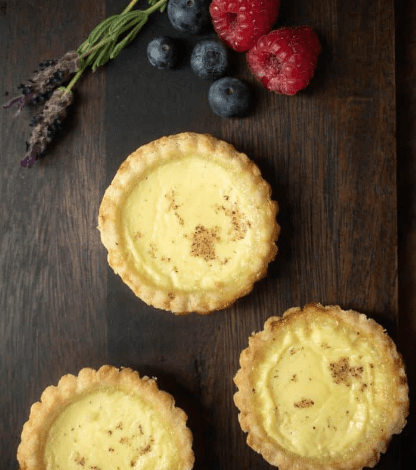 Egg Custard Tart: A Traditional British Dessert
Egg custard tart, also known as a custard tart, is a traditional British dessert that has been enjoyed for centuries. This recipe will show you how to make a delicious egg custard tart that's perfect for any occasion.
Ingredients
| Ingredient | Quantity |
| --- | --- |
| Puff pastry | 1 sheet |
| Egg yolks | 4 |
| Granulated sugar | 1/2 cup |
| Whole milk | 2 cups |
| Heavy cream | 1/2 cup |
| Vanilla extract | 1 teaspoon |
| Nutmeg | 1/4 teaspoon |
Instructions
Preheat the oven to 375°F (190°C).
Roll out the puff pastry sheet on a lightly floured surface to about a 1/8-inch thickness. Carefully place the pastry into a 9-inch (23cm) tart pan with a removable bottom. Press the pastry into the edges of the pan and trim any excess.
Prick the bottom of the pastry shell with a fork and then place it in the refrigerator for 30 minutes to chill.
Place a piece of parchment paper on top of the chilled pastry and fill it with baking beads, dried beans, or rice. This will keep the pastry from puffing up while baking.
Bake the pastry shell for 12-15 minutes or until the edges start to turn golden brown. Remove the parchment paper and the beads, beans, or rice and continue to bake for another 5-7 minutes or until the bottom of the pastry is golden brown.
In a mixing bowl, whisk together the egg yolks, sugar, milk, cream, vanilla extract, and nutmeg.
Pour the mixture into the pre-baked pastry shell.
Return the tart to the oven and bake for an additional 20-25 minutes or until the filling is set.
Remove from the oven and let it cool completely before serving.
Tips:
you can add grated nutmeg on top for extra flavor.
This recipe can be made gluten-free by using gluten-free puff pastry.
If you want to add some variation you can use different flavored extracts like almond, orange, or lemon.
You can serve the tart with a dusting of powdered sugar or fresh berries on top.
Egg custard tart is a delicious and easy-to-make dessert that's perfect for any occasion. Its creamy, custardy filling and flaky pastry crust make it a favorite among both kids and adults. Give this recipe a try and see for yourself how delicious egg custard tart can be.