Custard
Banana Custard: A Creamy and Nutritious Dessert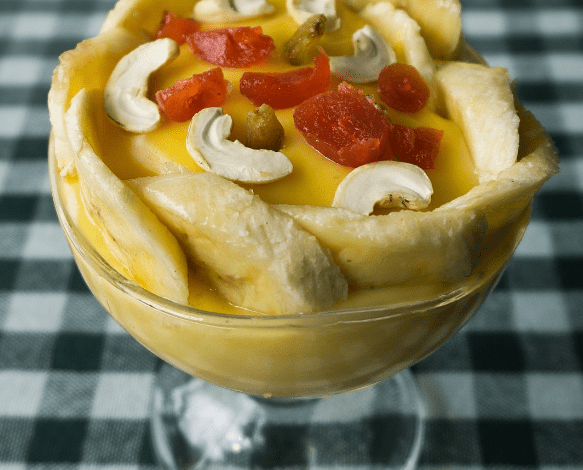 Banana Custard: A Creamy and Nutritious Dessert
Banana custard is a delicious and nutritious dessert that combines the sweet taste of ripe bananas with the creamy texture of custard. This recipe will show you how to make a simple and delicious banana custard that's perfect for any occasion.
Ingredients
| Ingredient | Quantity |
| --- | --- |
| Banana | 2 ripe |
| Eggs | 2 |
| Granulated sugar | 1/4 cup |
| Whole milk | 2 cups |
| Heavy cream | 1/2 cup |
| Vanilla extract | 1 teaspoon |
Instructions
Preheat the oven to 350°F (175°C).
In a mixing bowl, mash the ripe bananas with a fork or potato masher.
Whisk the eggs and sugar together in a separate bowl, then add in the mashed bananas, milk, cream, and vanilla extract. Mix until well combined.
Pour the mixture into a greased or non-stick 9×9 inch baking dish.
Place the baking dish inside a larger pan, such as a roasting pan, and fill the larger pan with warm water to reach about halfway up the sides of the baking dish.
Carefully transfer the pan to the preheated oven and bake for about 40-45 minutes or until the custard is set.
Remove from the oven and let it cool completely before refrigerating for at least 2 hours or overnight.
Serve chilled and enjoy!
Tips:
You can garnish it with some chopped nuts or shredded coconut before serving for added flavor and texture
You can add a sprinkle of cinnamon or nutmeg for extra warmth and spice.
You can add chocolate chips or chopped chocolate for a chocolaty twist.
The recipe makes about 4 servings of custard.
Banana custard is a delicious and easy-to-make dessert that's perfect for any occasion. Its sweet, creamy and nutritious flavor makes it a hit with both kids and adults. Give this recipe a try and see for yourself how delicious banana custard can be.