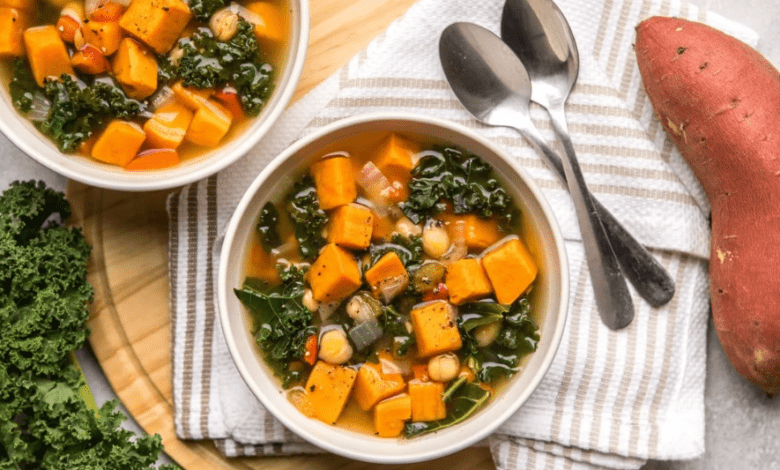 Sweet potatoes and kale are two of the healthiest vegetables around. They are packed with nutrients, vitamins, and antioxidants that are essential for a healthy diet. Combining them into a soup is a great way to enjoy their benefits while also enjoying a delicious and comforting meal. In this article, we will share with you a Sweet Potato and Kale Soup recipe that is easy to make, healthy, and flavorful.
Ingredients:
| Ingredient | Quantity |
| --- | --- |
| Sweet potatoes | 2 large |
| Kale | 4 cups |
| Onion | 1 medium |
| Garlic | 3 cloves |
| Vegetable broth | 4 cups |
| Coconut milk | 1 cup |
| Olive oil | 2 tbsp |
| Salt | To taste |
| Black pepper | To taste |
Instructions:
Peel and dice the sweet potatoes into small pieces.
Wash and chop the kale into small pieces.
Peel and chop the onion and garlic.
In a large pot, heat the olive oil over medium heat.
Add the onion and garlic and sauté for 2-3 minutes until soft.
Add the sweet potatoes to the pot and sauté for another 5 minutes until they start to soften.
Add the kale to the pot and stir well.
Pour in the vegetable broth and bring it to a boil.
Reduce the heat and let the soup simmer for 20-25 minutes until the sweet potatoes are tender.
Add salt and black pepper to taste.
Using an immersion blender, blend the soup until smooth.
Add the coconut milk and stir well.
Let the soup simmer for another 5-10 minutes until heated through.