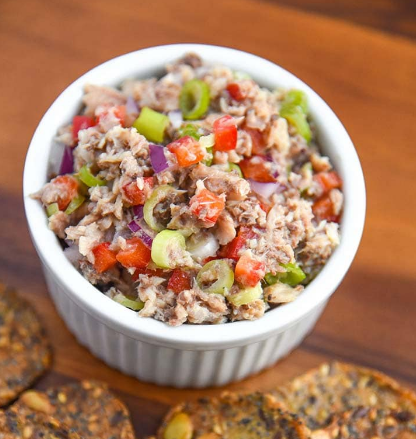 Are you looking for a delicious and healthy salad recipe that's packed with omega-3 fatty acids and protein? Look no further than this easy-to-make sardine salad recipe! With just a few simple ingredients, you can create a satisfying and flavorful salad that's perfect for lunch or dinner.
Ingredients:
| Ingredients | Amount |
| --- | --- |
| Canned sardines | 1 can |
| Mixed salad greens | 2 cups |
| Cherry tomatoes halved | 1 cup |
| Cucumber, sliced | 1/2 cup |
| Red onion, sliced | 1/4 cup |
| Kalamata olives, pitted | 1/4 cup |
| Feta cheese, crumbled | 1/4 cup |
| Lemon juice | 2 tablespoons |
| Olive oil | 2 tablespoons |
| Salt and pepper | to taste |
Instructions:
Start by draining the canned sardines and breaking them up into bite-sized pieces.
In a large bowl, combine the mixed salad greens, cherry tomatoes, sliced cucumber, red onion, pitted kalamata olives, and crumbled feta cheese.
Add the sardines to the bowl, and toss everything together.
In a small bowl, whisk together the lemon juice and olive oil, and season with salt and pepper to taste.
Pour the dressing over the salad, and toss to coat everything evenly.
Serve immediately and enjoy!
This sardine salad recipe is a great way to incorporate more omega-3 fatty acids into your diet, which can help support brain health and reduce inflammation in the body. It's also a tasty and satisfying meal that's perfect for any time of day. Give it a try and see for yourself!