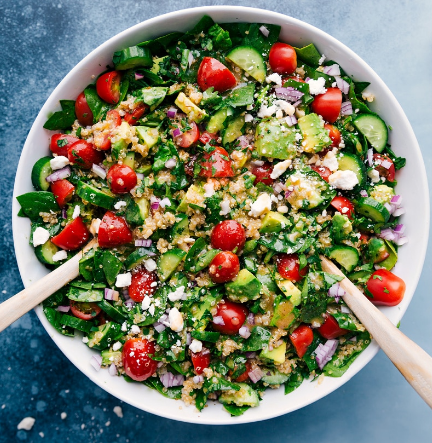 Quinoa is a superfood that's packed with protein, fiber, and a range of essential vitamins and minerals. This versatile grain can be used in a variety of dishes, including salads. In this article, we'll share a recipe for a delicious and nutritious quinoa salad that's perfect for a healthy and satisfying meal.
Ingredients:
| Quantity | Ingredients |
| --- | --- |
| 1 cup | Quinoa |
| 1 1/2 cups | Water or vegetable broth |
| 1/4 cup | Red onion, chopped |
| 1/2 cup | Cherry tomatoes halved |
| 1/2 cup | Cucumber, diced |
| 1/4 cup | Feta cheese, crumbled |
| 1/4 cup | Kalamata olives, pitted and chopped |
| 2 tablespoons | Fresh parsley, chopped |
| 2 tablespoons | Fresh lemon juice |
| 2 tablespoons | Olive oil |
| Salt and pepper, to taste | |
Instructions:
Rinse the quinoa under running water and drain.
Add the quinoa and water or vegetable broth to a saucepan and bring to a boil.
Reduce the heat to low, cover, and simmer for 15-20 minutes, or until the quinoa is tender and the liquid is absorbed.
Remove the quinoa from the heat and fluff it with a fork.
Add the chopped red onion, cherry tomatoes, cucumber, feta cheese, and olives to the quinoa and mix well.
In a separate bowl, whisk together the fresh parsley, lemon juice, olive oil, salt, and pepper.
Pour the dressing over the quinoa mixture and toss to coat.
Serve the quinoa salad immediately or chill in the refrigerator for at least 30 minutes before serving.
This quinoa salad recipe is a great way to incorporate more whole grains and vegetables into your diet. Quinoa is a great source of protein and fiber, which helps to keep you feeling full and satisfied, and it's also gluten-free.
The vegetables in this salad add some extra color, flavor, and nutrition. Tomatoes are rich in lycopene, which is a powerful antioxidant that can help to protect against cancer and other chronic diseases. Cucumbers are a good source of vitamin K, which is important for bone health, and they also provide some extra hydration.