Diet & Proteins
Eggplant Caponata Recipe: A Delicious and Easy Italian Appetizer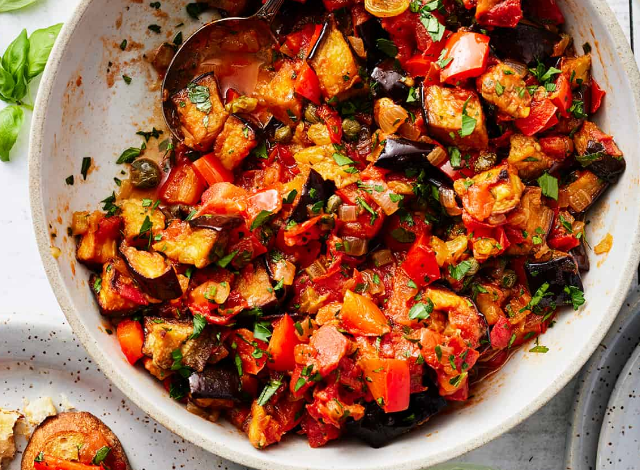 If you're looking for a delicious and easy-to-make Italian appetizer, look no further than eggplant caponata. This classic dish is made with eggplant, tomatoes, onions, capers, and olives, all cooked together in a sweet and tangy sauce. In this article, we'll share a simple recipe for eggplant caponata that's sure to impress your guests.
Ingredients:
| Quantity | Ingredients |
| --- | --- |
| 2 | Eggplants, diced |
| 1/4 cup | Olive Oil |
| 1 | Onion, chopped |
| 2 cloves | Garlic, minced |
| 1 can (14 oz) | Diced Tomatoes |
| 1/4 cup | Red Wine Vinegar |
| 1/4 cup | Honey |
| 1/4 cup | Capers |
| 1/2 cup | Green Olives, sliced |
| Salt and Pepper | to taste |
| Fresh Basil | for garnish |
Instructions:
Heat the olive oil in a large skillet over medium-high heat.
Add the diced eggplant and cook for 8-10 minutes, or until softened and lightly browned.
Add the chopped onion and minced garlic, and cook for another 2-3 minutes, or until the onion is softened.
Stir in the diced tomatoes, red wine vinegar, honey, and capers. Bring the mixture to a simmer.
Reduce the heat to low and let the caponata simmer for 15-20 minutes, or until the sauce has thickened.
Stir in the sliced olives and cook for another 2-3 minutes.
Season the caponata with salt and pepper to taste.
Garnish with fresh basil and serve with crostini or crackers.
This eggplant caponata recipe is a great appetizer for any occasion. The combination of sweet and tangy flavors is sure to please your taste buds, while the diced eggplant provides a meaty texture. The capers and olives add a salty bite, while the fresh basil gives a touch of herbaceousness.
In addition to being a delicious appetizer, eggplant caponata is also a healthy and nutritious dish. Eggplant is a great source of fiber and antioxidants, while tomatoes and onions provide vitamins and minerals. The olives and capers also provide healthy fats, making this dish a great choice for a balanced diet.