Custard
Lemon Custard: A Tart and Creamy Treat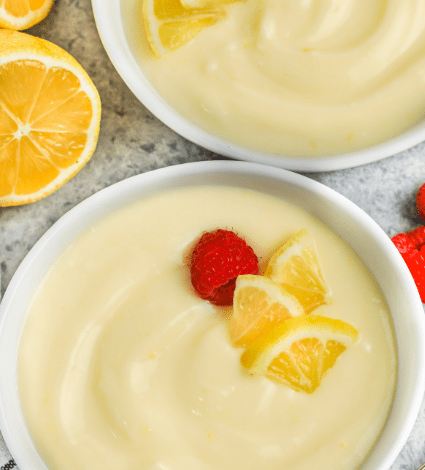 Lemon Custard
Lemon custard is a classic dessert that combines the tangy flavor of lemon with the richness of the custard. It's a versatile dish that can be served on its own or used as a filling for pies, tarts, and other pastries. This recipe will show you how to make a delicious lemon custard that's sure to please your taste buds.
Ingredients
| Ingredient | Quantity |
| --- | --- |
| Egg yolks | 4 large |
| Granulated sugar | 1/2 cup |
| Cornstarch | 2 tablespoons |
| Salt | 1/4 teaspoon |
| Whole milk | 1 1/2 cups |
| Heavy cream | 1/2 cup |
| Fresh lemon juice | 1/4 cup |
| Lemon zest | 1 teaspoon |
| Unsalted butter | 1 tablespoon |
Instructions
In a medium saucepan, whisk together the egg yolks, sugar, cornstarch, and salt. Gradually whisk in the milk and cream. Cook the mixture over medium-low heat, whisking constantly until it thickens and begins to boil about 8-10 minutes.
Remove the pan from the heat and whisk in the lemon juice, lemon zest, and butter.
Pour the custard through a fine-mesh strainer into a clean bowl. This will remove any lumps or bits of cooked egg.
Pour the custard into a container and press plastic wrap directly onto the surface to prevent skin from forming. Refrigerate the custard until chilled, at least 2 hours.
Serve the custard chilled, topped with fresh berries or a sprinkle of powdered sugar if desired. Enjoy!
Note:
If you want to use the custard as a filling for pies, tarts, or in pastries like a lemon tart or lemon meringue pie, this recipe will make enough custard to fill a 9-inch pie or tart.
The recipe makes about 2 cups of custard.
To make it gluten-free, be sure to use cornstarch instead of flour.
Lemon custard is a delicious and easy-to-make dessert that's perfect for any occasion. Its sweet and tangy flavor makes it a hit with both kids and adults, and it's versatile enough to be used in a variety of desserts. Give this recipe a try and see for yourself how delicious lemon custard can be.