Beef
Beef Wellington, An Original And Delicious Recipe
Beef Wellington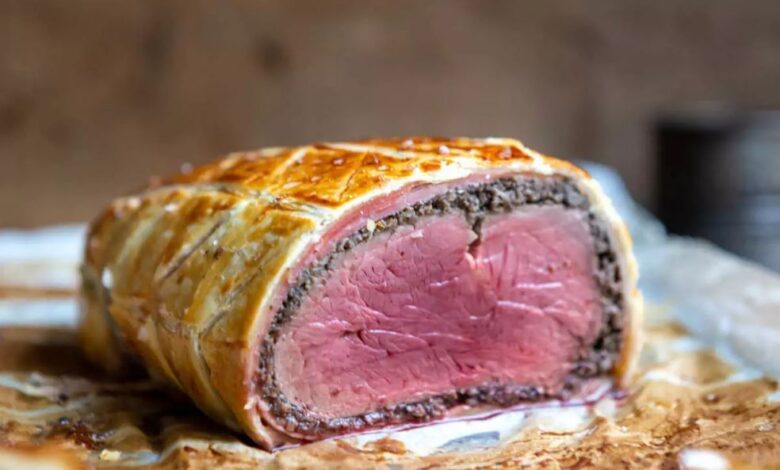 A few years ago, when Gordon Ramsay arrived in Bordeaux to sign the restaurant menu at the Hôtel Intercontinental, I was invited to discover the brasserie menu. I had tasted my first beef in Wellington there and loved it. I told myself I would try one day, but I admit that cooking in a crust scared me a little. The years have passed but the idea has always remained in the back of my mind.
And I decided that this year would be the year. So I started. I surfed the global internet and took a good look at the recipes (including necessarily that of Gordon Ramsay and also that of Cyril Lignac ). Gordon puts chestnuts but I skipped it, I didn't want to. So I stayed on "all mushrooms". For the mustard, you can opt for English mustard ( Savora type ) but I have also seen proposals with Dijon mustard. So do with what you have and what you like (I took Dijon).
As for the meat, I chose an excellent French roast beef from Maison Lascours, whose know-how dates back to 1922. Excellence has been passed down from father to son ever since. This company markets via the internet throughout France.
This delicious recipe (an idea for the holidays to impress mother-in-law ) is not difficult but it requires several steps. So, I put a LOT of pictures to help you.
How to Make a Beef Wellington
Ingredients for 6/8 people according to appetites
1 roast beef ( tenderloin) of 800 g
1 kg button mushrooms
4 garlic cloves
2 pinches of salt
1 sprig of thyme
2 tablespoons of mustard
6 thin slices of raw ham
3 tablespoons olive oil
1 puff pastry (rectangular, it's easier)
1 egg yolk diluted in a tablespoon of water
Preparation of the roast
Remove the bard from the roast if necessary.
Roast beef Maison Lascours
Roast beefcake off the bard
Pour 3 tablespoons of olive oil into a frying pan and heat it over high heat. When it is hot, brown your roast beef in it for 30 seconds on each side (4).
Brown
colorful roast
Remove to a plate and brush with mustard.
Mustard
battery side front side book
Set aside until it comes back to room temperature.
Preparation of mushrooms
Remove the earthy pieces, peel them (not obligatory but I prefer), and rinse them very quickly under cold water (they must not become waterlogged). Roughly chop them. Peel the garlic cloves and cut them into 4.
Put everything in the bowl of the robot and mix (proceed 2 or 3 times because there is a lot). The consistency should not be pureed. You need small dice.
Mushrooms
Cloves of garlic
Prepared mushrooms chopped mushrooms
Heat a frying pan over high heat and sauté this garlic mushroom duxelles (to which you have added a pinch of salt and a sprig of thyme) over very high heat to evaporate as much water as possible. It took me 15 minutes. Set aside (remove the sprig of thyme).
Cooking
Baked duxelles
To not be too fast on D-Day, I prepared the mushrooms the day before.
Assembly
Unroll a plastic film on your table. Place the overlapping slices of cured ham on it, next to each other.
Ham
Unroll a plastic film
Overlap the slices place the slices of ham
Cover them with the previously prepared mushroom duxelles. Drain it well again before spreading it (I pressed it really hard through a fine mesh strainer to remove as much residual water as possible).
Put the mushrooms on the ham
Spread the mushrooms
Put the roast
Roll up
wrapped roast
Then place the roast and roll the plastic wrap to wrap the roast well. Reserve in the refrigerator for half an hour.
After 30 minutes, put a plastic film back on your work surface. Place your rectangle of puff pastry on it. Take the roast out, remove the plastic film and place it on the dough. In the center. Using the film, fold one side, then the other.
Puff pastry
Put down the roast
Fold the dough
on both sides
Finally, close the dough at each end by folding it. You should get a kind of pudding wrapped in cling film.
Close well
Reserve in the refrigerator
Reserve in the refrigerator for another 30 minutes.
Cooking
After this time, preheat the oven to 200°C, fan-assisted.
Place the roast surrounded by dough on a baking sheet lined with parchment paper. Mix 1 egg yolk and 1 tablespoon of water in a ramekin. Glaze your dough with this mixture.
Gild with egg
golden paste
Then, using a knife, decorate it if you wish. Sprinkle with a little salt (I like it on puff pastry) if desired.
Draw lines
Decorated roast
Before baking
Bake in the oven preheated to 200°C for 25 to 30 minutes of cooking depending on whether you like it more or less rare or pink. Leave to rest for 10 minutes out of the oven before serving.
Out of the oven
Slice of Beef Wellington
Absolutely delicious! Do not hesitate to serve if you like with a shallot, red wine, and Cognac sauce for example. In England, Beef Wellington is often served with Madeira sauce.
Existential questions
But and the foie gras will you perhaps tell me?
In #LaVraieRecette, there is foie gras but I preferred Gordon Ramsay's version, which was lighter. If you want to add some, mix it with the mushrooms
Wouldn't we add a small truffle?
If you have some on hand, that's a good idea. On the other hand, avoid truffle oil. 99 times out of 100 it's not good.
Enjoy your lunch!
Bi's existential questions:
Given the number of questions received by email, I make grouped answers and please, no email. Write in the recipe comments because I get the same questions many times and I only have two arms 
:
How to replace mushrooms?
So close the shutters first whenever the Beef Wellington Police pass by. Then I don't really know. Because there is already the mustard. Otherwise I would have told you to try the tapenade.
And how to replace the ham
I imagine it's for religious matters? In this case do not put anything. Because otherwise, the thin slices of smoked bacon, that must do it too, but that won't solve the problem.
Can we do it the night before?
Just the mushrooms, as directed. Possibly the roast wrapped in ham. But not in puff pastry. This will soothe her.