Cake
WHITE CHOCOLATE MOJITO NAKED CAKE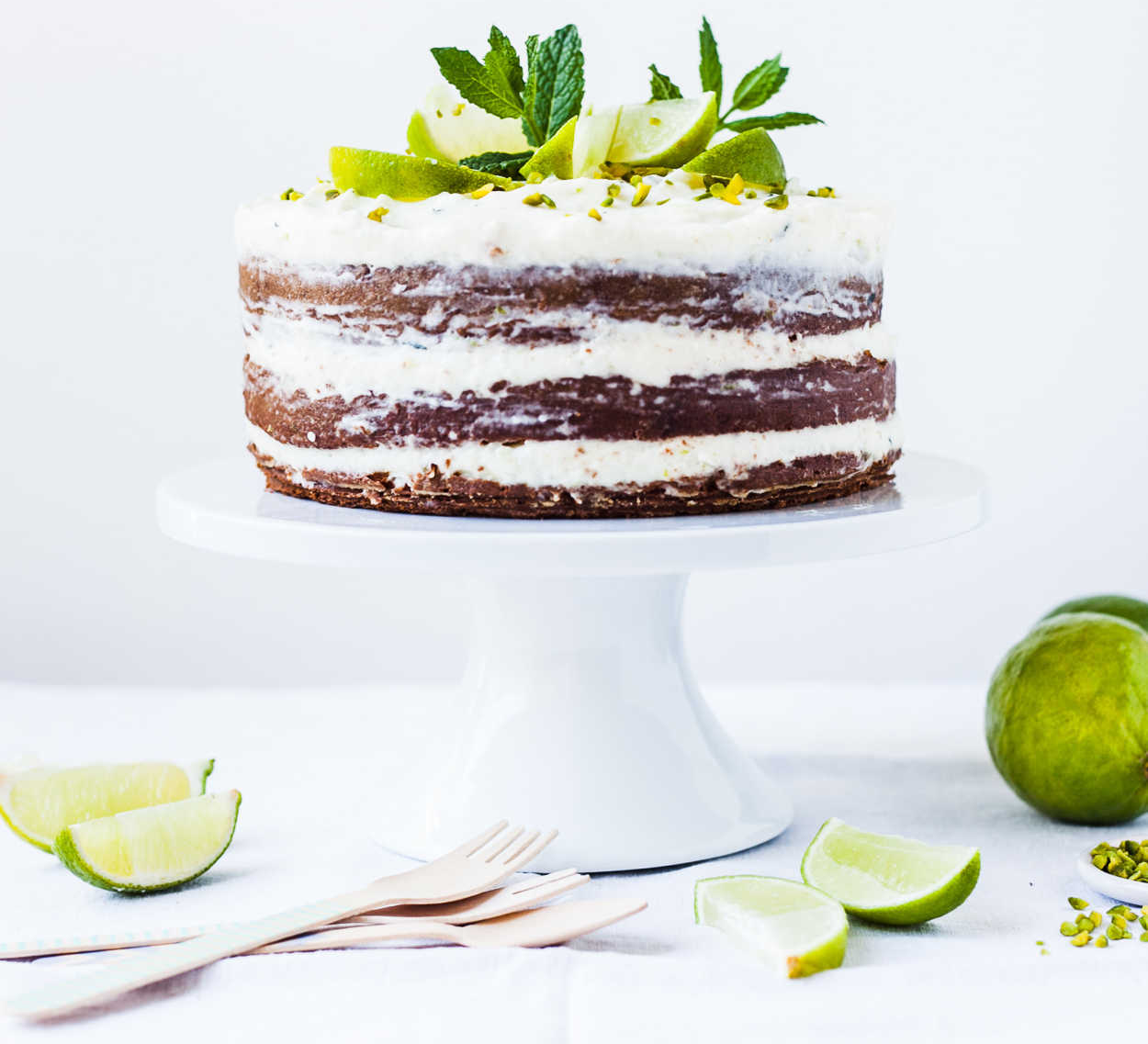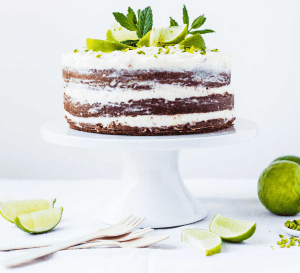 Ladies and gentlemen, dear children – I did it. The inventor of the birthday pickle , who scorched the all-important cake for the best of men into a hard, black block of concrete, has baked. And how! Yes, I can certainly say that I doa tiny little bitpretty darn proud of it. Because it's not something that came out of my oven well and delicious. It's a multi-tiered naked cake. More precisely: A White Chocolate Mojito Naked Cake. BAM!
Anyone who might be wondering at this point what all the fuss about a fancy cake is all about – after all, anyone who can cook will also be able to put together some dough: no, that's a big mistake. Cooking and baking are two very different things. And the weighing of ingredients to the exact gram, which are then treated in complicated processes by the degree and by the minute – that used to be more like a pair of very uncomfortable 12-centimetre monolos that were not suitable for everyday use. So pretty, but unwearable.
A dyslexic baker goes to a cake workshop – wow!
Until I recently attended the baking workshop held by Weihenstephan and confectioner world champion Andrea Schirmaier-Huber in Bavaria. Does that sound a bit absurd? That's what I thought too at first when the Bayerische Molkerei invited me to this workshop. I had to grin a little as I imagined myself fighting between all the seasoned cake fairies and fondant princes, dripping in sweat with a piping tip in my hand. Quite apart from the fact that I don't actually find cream cakes particularly attractive. Too much cream, no.
But then I did it anyway. I was just curious and – hey – maybe as a dyslexic back I could actually pick up some helpful hint. For example, how my baked goods don't always end up in the bin. So let's go to beautiful Bavaria – more precisely to the Chiemgau to Ruhpolding in the charming chalet complex "Beim Waicher" of the Hohlweger family.
Small side note: one should not confuse chateau and chalet – as a northern light, that can easily happen. A chalet is not a castle, but a wooden hut. So now I know that too. Fortunately, the wooden huts on the extensive property were very chic, modern and with every comfort including a kitchen, open fireplace, 48-head massage shower and whirlpool. Oh yes: And there were also pretty goats and imposing mountains. Who needs a little castle, right?
Knee deep in buttercream with a naked cake
And a short time later I found myself knee-deep in buttercream, cake crusts and mirror-glaze. Experts talked about 3D shapes, palettes and naked cakes. Right in the middle of it all is the confectioner world champion and Weihenstephan Macaren Ambassador Andrea Schirmaier-Huber. When you see the petite blonde in light-colored panties and blouses, with a blonde ponytail and pearl earrings for the first time, you think you have a real Elblette in front of you. But when she then opens her mouth, it's immediately and unequivocally clear: nothing there. Andrea is Bavarian. And really. In a moody dialect, she conducts our 15-headed baker's pack briskly through the kitchen. She also lifts 20-kilo packs of buttercream from left to right, dips frozen creamy peaches in an unearthly shimmering sparkling red sauce and decorates luscious fruit bouquets on cheesecake. Gentlemen, what a bundle of energy! And I'm learning a lot from her.
I especially liked the naked cake. This is a tiered cake with a buttercream or whipped cream filling. But instead of being covered with fondant or cream at the end, the cake is left "naked" on the outside – you can see the bases. For baking bloggers, such a decorative cake is probably part of their everyday repertoire. For me, things were completely new. And I loved it. Bake a simple dough, cut it in half, fill it with a cream and finally top it off with an effective decoration? Everyone can do this. So me too. So in the workshop with Andrea I created my first, well-designed and totally decorative naked cake. I was excited! I think I said that before.
Mojito feeling as a cake – wonderfully refreshing and so creamy
Success should be repeated. When I got home I threw myself into the kitchen and made my own White Chocolate Mojito Naked Cake. For the dough, I followed Andrea's recipe very closely and only added two or three ingredients for the "mojito feeling". I wanted the cream filling to be light and summery. Cream, yoghurt, lime and mint create a wonderfully refreshing yet creamy affair!
And as a little reminiscence of Bavaria, I used Weihenstephan milk products for the cake . The milk for butter, yoghurt, milk and cream comes only from dairy farms in Bavaria, which manage very different farm structures from mini-farms to large-scale operations. Cooperation with these companies has often been going on for many years. The raw milk is collected fresh from the farms and then processed into various dairy products at Weihenstephan in Freising. For example, the Bavarians are very happy to forgo multiple pasteurization, especially when it comes to whipped cream. Due to the gentle processing, the taste and natural components of the milk are better preserved. That's something.
Personally, I'm not so much into ready-made fruit yoghurts and the like – but I really like the natural yoghurt from Weihenstephan. The taste reminds me a lot of the yoghurt that I ate with my parents on holiday in Bulgaria as a child: very creamy, very fresh and wonderfully sour! That's why a whole lot of it ended up in my fantastic, summery, moist, delicious White Chocolate Naked Cake. It's definitely not for the bin. And I'm still pretty proud.
Bake too and enjoy! ღ
White Chocolate Mojito Naked Cake recipe
Ingredients for 1 cake, springform pan 18 cm:
Cake
100 g butter (e.g. from Weihenstephan)
75 g brown raw cane sugar
2 eggs, size M
100 g white chocolate coating
65 g milk
1/2 bottle of rum flavoring for baking ,
grated 1 lime
90 g egg whites (approx. 3 egg whites)
75 g icing sugar
100 g flour
3 g baking powder
1 pinch of salt
1 pinch of cinnamon
Yoghurt mojito filling
250 g whipped cream (e.g. from Weihenstephan)
1-2 sachets of cream stiffener
30 g icing sugar
300 g plain yoghurt, 3.5% fat (e.g. from Weihenstephan)
Zest of 2 limes
Juice of 1 lime
4-5 mint leaves, fine chopped
1/2 bottle of rum aroma for baking
1 sachet of Gelier-Fix (approx. 15 g)
Decoration
1 lime, halved
1 sprig of mint
chopped green pistachios
That's how it works:
cake
Preheat the oven to 180 degrees top/bottom heat.
Separate the eggs and beat the yolks with butter and raw cane sugar until fluffy. In a small saucepan, dissolve the couverture in the milk over a low heat. Allow to cool slightly and stir into the butter mixture along with the zest of lime and Romaine aroma.
Beat the egg white and icing sugar until stiff and mix with the butter mixture.
In a separate bowl, mix the flour, baking powder, salt and cinnamon well and then quickly stir into the batter with a wooden spoon until no more flour can be seen.
Fill a coated springform pan (18 cm diameter) with the dough and bake at 180 degrees for 30-35 minutes.
Take out of the oven, let cool down a bit. Then remove from the springform pan and let cool completely on a wire rack.
For filling, cut the cake in half horizontally (see tip below).
Yoghurt mojito filling
Whip the cream until stiff, slowly pouring in the whipped cream. Then beat in the powdered sugar.
Mix the yoghurt with the lime zest, lime juice, chopped mint and rum flavoring. Allow the gelling fix to work in and mix well with a whisk for about 1 minute (or according to the instructions on the packet).
Mix the cream and yoghurt well and leave to thicken in the fridge for a few minutes.
Assemble
Spread a third of the yoghurt-mojito filling generously on the bottom cake layer up to the edge. Place the center base and also spread with a third of the cream. Place the cake topper on top and spread the last third of the cream on top. Peel off the cream at the edge (see tip below).
Decorate the White Chocolate Mojito Cake with lime wedges, mint and chopped pistachios. Keep in the fridge until ready to cut. (And be proud of the result like Bolle!)
Tips: 
The best way to cut the cake is with a large, sharp knife (bread knife or similar). Hold the knife parallel to the table surface at the desired height and then make small sawing movements – turning the cake with your free hand and letting the knife slide inwards more and more. (This is a lot easier than it sounds!)
So that the cake is also beautifully naked on the outside: hold a palette or a spatula perpendicular to the tabletop and gently press along the edge of the filled cake to scrape off excess cream. Most of the cake bases should be visible under the cream. Don't worry – it doesn't have to be totally exact. The Naked Cake lives a little from the imperfect.