Cake
BLACK BEER BROWNIES WITH CINNAMON TOPPING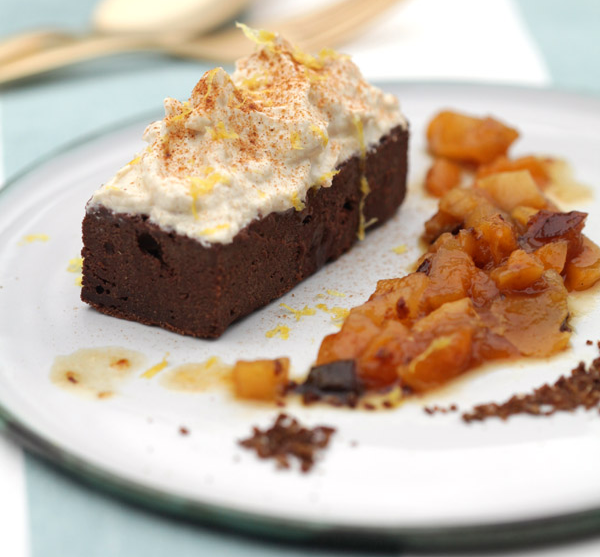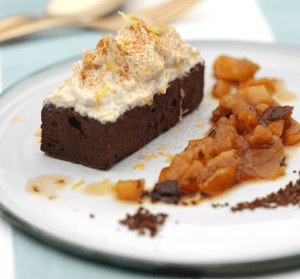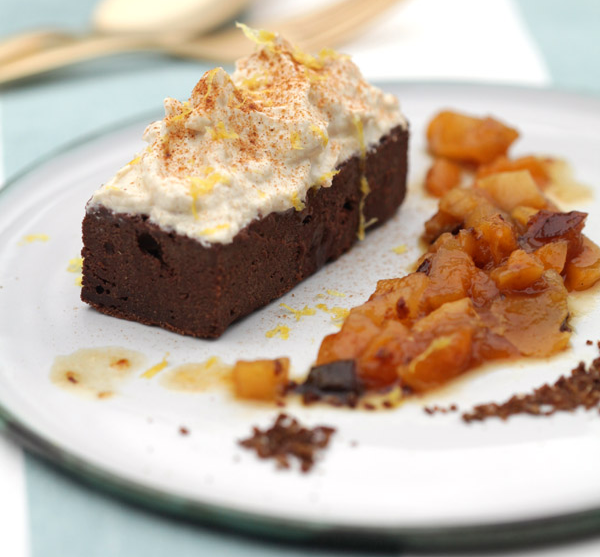 " Dad, dad! Mom put beer in the cake!!" The man rushes over with quick steps and a clouded brow. "Everything ok here?" he wants to know and stares doubtfully at the bottle in my hand that is hovering over the mixing bowl. "Sure darling. It has to be like that." I beam at him and add a small shot of dark beer to the chocolate dough. The man shudders. And looks deliberately neutral. As always when he thinks that I'm definitely taking things too far in the kitchen.
But I am sure that it will be really delicious: very dark, juicy chocolate dough with a little tart note, creamy topping with a hint of cinnamon and sweet dried fruit compote with vanilla and spicy crunchy pumpernickel crumbs – my black beer dessert recipe for adults.
And now it's dessert.
Enjoy! ღ
Here comes the recipe for black beer brownies with cinnamon topping, dried fruit compote and a spicy pumpernickel crunch
Dark beer brownies
Mix 110 g flour with 1 teaspoon baking powder .
Beat 2 eggs with 70 g icing sugar , 1/2 tsp ground vanilla , 1 pinch nutmeg and 1 pinch salt for a few minutes until a white, fluffy cream has formed. Then alternately stir in the flour,  50 ml sunflower oil and 150 ml buttermilk .
Melt 200 g dark chocolate (85%) in a water bath and carefully stir into the egg cream. Stir in 200 ml dark beer  (e.g. from Köstritzer).
Place the dough in a flat loaf tin (approx. 15 x 25 cm) lined with baking paper, smooth out and bake in a preheated oven at 180°C for 25 minutes.
For the cinnamon topping , mix 200 g cream cheese with 50 g butter , 2 tablespoons powdered sugar ,  1 teaspoon cinnamon, the zest of 1/2 an orange and a dash of lemon juice for 2 minutes with a hand mixer until smooth.
Dried fruit compote Cover
150 g dried fruit in a small bowl with water and leave to soak for a few hours (preferably overnight). Pour off the soaking water and catch it. Cut the dried fruit into small cubes.
Melt 2 tbsp powdered sugar in a small saucepan until light brown caramel forms. Sauté 1/2 teaspoon grated ginger  briefly in the caramel and then deglaze with the soaking water. Add 1/2 tsp ground vanilla and cook until the caramel has dissolved.
Put the chopped dried fruit in the pot and fill up with a little water. Simmer on a low flame for about 30 minutes. refrigerate.
Pumpernickel cunch Finely crumble
1 slice of pumpernickel , season with a pinch of chili powder and toast in a non-stick pan over medium heat.
Serving
Cut the dark beer brownies into rectangles and spread with the cinnamon topping. Place on a plate and garnish with the dried fruit compote and the pumpernickel crunch.
Sprinkle with a little cinnamon and lemon zest if you like.