Crabs
Savor the Sea: A Delightful Crab Fried Rice Recipe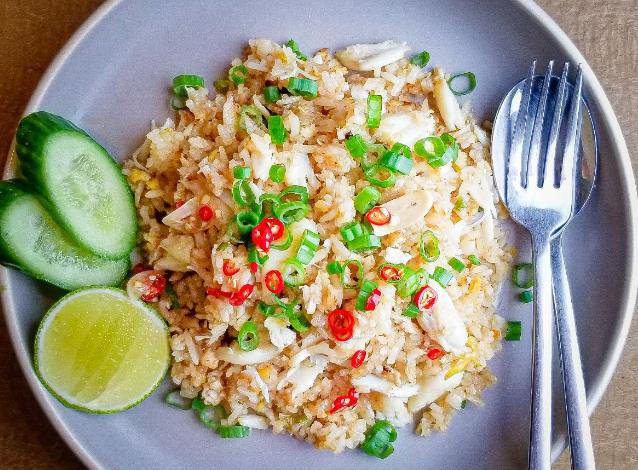 Crab Fried Rice is a flavorful and satisfying dish that brings together the sweet, delicate taste of crab meat with the nutty aroma of fried rice. This recipe is perfect for seafood lovers and is easy to prepare. Whether you're looking to enjoy a quick and tasty meal at home, or want to impress guests at a dinner party, this Crab Fried Rice recipe is sure to hit the spot.
Ingredients:
| Ingredient | Quantity |
| --- | --- |
| Rice | 2 cups |
| Water | 2 1/2 cups |
| Salt | 1/2 tsp |
| Vegetable oil | 2 tbsp |
| Onion | 1/2, diced |
| Garlic | 2 cloves, minced |
| Carrot | 1, diced |
| Peas | 1/2 cup |
| Crab meat | 1 pound |
| Soy sauce | 2 tbsp |
| Oyster sauce | 1 tbsp |
| Sesame oil | 1 tsp |
| Scallions | 2 tbsp, chopped |
Instructions:
In a wok or large frying pan, heat the vegetable oil over medium heat. Add the onion, garlic, red bell pepper, peas, carrots, and stir-fry for 2 to 3 minutes until the vegetables are tender.
Push the vegetables to one side of the pan and add the beaten eggs to the other side. Scramble the eggs until they are set, then mix them in with the vegetables.
Add the cooked white rice, crab meat, soy sauce, oyster sauce, and sesame oil to the pan, and stir-fry for an additional 2 to 3 minutes until everything is well combined.
Stir in the chopped green onions, and cook for another 1 to 2 minutes until the green onions have wilted.
Serve the Crab Fried Rice hot and garnish with additional green onions and sesame seeds, if desired.
This Crab Fried Rice recipe is an easy and delicious way to enjoy the sweet taste of crab meat. The combination of fresh ingredients, savory sauces, and fluffy white rice makes this dish a crowd-pleaser that's perfect for any occasion. So why wait? Grab your wok and try this delicious recipe today!