Diet & Proteins
Paleo Shepherd's Pie Recipe: A Healthy and Delicious Twist on a Classic Dish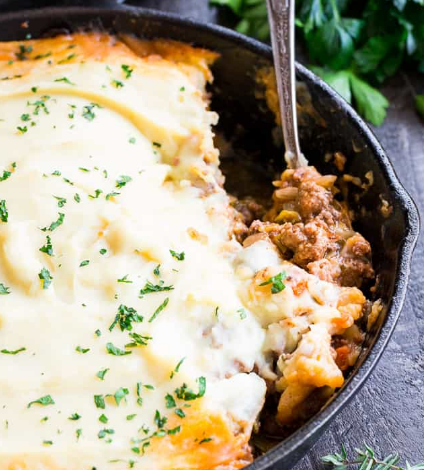 Shepherd's Pie is a classic comfort food that is beloved by many. However, traditional Shepherd's Pie is typically made with ingredients that are not paleo-friendly. Fortunately, with this Paleo Shepherd's Pie recipe, you can enjoy a healthy and delicious twist on this classic dish. In this article, we will share with you our easy-to-follow recipe for Paleo Shepherd's Pie. Ingredients:
| Ingredient | Quantity |
| --- | --- |
| Sweet potatoes, peeled and chopped | 2-3 |
| Grass-fed ground beef | 1 pound |
| Onion, chopped | 1 |
| Carrots, chopped | 2 |
| Garlic cloves, minced | 2 |
| Tomato paste | 2 tbsp |
| Coconut aminos | 1 tbsp |
| Dried thyme | 1 tsp |
| Salt and pepper | To taste |
| Olive oil | 2 tbsp |
Instructions:
Preheat your oven to 400°F.
Boil the chopped sweet potatoes in a pot of water until tender, about 15-20 minutes.
While the sweet potatoes are boiling, heat the olive oil in a skillet over medium heat.
Add the chopped onion and minced garlic and sauté until fragrant, about 2-3 minutes.
Add the ground beef to the skillet and cook until browned, breaking up any large chunks with a spatula.
Add the chopped carrots to the skillet and cook for an additional 5 minutes.
Add the tomato paste, coconut aminos, dried thyme, salt, and pepper to the skillet. Mix well.
Reduce the heat to low and let the meat mixture simmer for 5-10 minutes until the sauce has thickened.
Once the sweet potatoes are tender, drain them and mash them with a fork or potato masher until smooth.
Spread the meat mixture in a baking dish and top with the mashed sweet potatoes.
Bake the Paleo Shepherd's Pie in the oven for 15-20 minutes, or until the sweet potato topping is lightly browned.