Diet & Proteins
One-Pot Chicken and Brown Rice Recipe: A Healthy and Easy Meal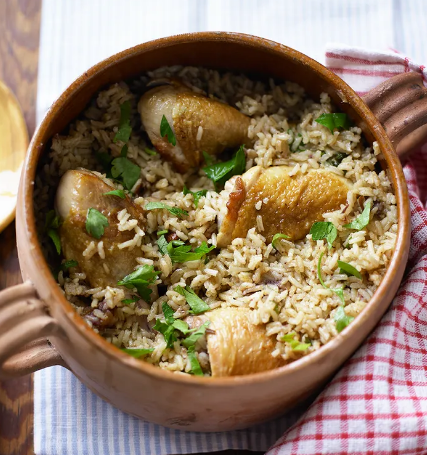 Looking for a healthy and easy one-pot meal? Look no further than this One-Pot Chicken and Brown Rice recipe! Packed with protein, fiber, and essential nutrients, this dish is not only delicious but also nutritious. Ingredients:
| Ingredients | Amount |
| --- | --- |
| Olive oil | 1 tablespoon |
| Boneless, skinless chicken | 1 pound |
| Onion | 1, chopped |
| Garlic | 3 cloves, minced |
| Paprika | 1 teaspoon |
| Ground cumin | 1 teaspoon |
| Dried thyme | 1 teaspoon |
| Salt | 1 teaspoon |
| Black pepper | 1/2 teaspoon |
| Brown rice | 1 cup, rinsed |
| Chicken broth | 2 cups |
| Frozen peas | 1 cup |
| Fresh parsley | 1/4 cup, chopped |
Instructions:
Heat olive oil in a large skillet or Dutch oven over medium-high heat. Add chicken and cook until browned, about 5-7 minutes. Remove chicken from skillet and set aside.
Add onion to the same skillet and cook until softened, about 3-5 minutes. Add garlic, paprika, cumin, thyme, salt, and black pepper, and cook for an additional 1-2 minutes.
Add brown rice and stir to coat with the onion and spice mixture. Add chicken broth and bring to a boil.
Reduce heat to low, cover, and simmer for 35-40 minutes, or until rice is tender and liquid is absorbed.
Stir in frozen peas and reserved chicken. Cook until chicken is heated through and peas are tender about 5-7 minutes.
Sprinkle with fresh parsley before serving.
This One-Pot Chicken and Brown Rice recipe is not only delicious, but it is also easy to make and easy to clean up. All you need is one skillet or Dutch oven, and you'll have a complete meal that will satisfy your hunger and provide your body with essential nutrients. Brown rice is a whole grain that is packed with fiber, vitamins, and minerals. It is also low in calories, making it an ideal choice for weight management. Chicken is a great source of protein, which is essential for building and repairing muscle tissue. Peas are a good source of fiber, which helps to keep you feeling full and satisfied.