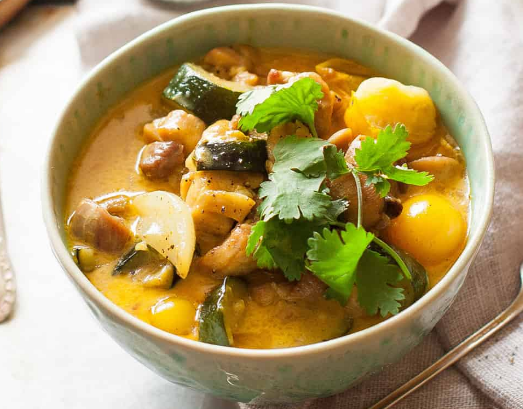 Chicken curry is a popular and flavorful dish that is enjoyed by many people around the world. If you're following a Paleo diet, you might think that you can no longer enjoy this delicious meal. However, we have a great recipe for a Paleo chicken curry that is healthy, flavorful, and easy to make. In this article, we will share with you an easy-to-follow recipe for Paleo chicken curry that will satisfy your taste buds and keep you on track with your healthy eating habits. Ingredients:
| Ingredient | Quantity |
| --- | --- |
| Chicken breasts, cut into small pieces | 1 lb |
| Coconut oil | 2 tbsp |
| Onion, chopped | 1 |
| Garlic cloves, minced | 2 |
| Ginger, grated | 1 tsp |
| Curry powder | 2 tbsp |
| Cumin | 1 tsp |
| Turmeric | 1 tsp |
| Salt and pepper | To taste |
| Coconut milk | 1 can |
| Tomatoes, diced | 2 |
| Bell peppers, diced | 2 |
| Cauliflower, chopped | 2 cups |
| Fresh cilantro, chopped | 1/4 cup |
Instructions:
In a large pan, heat the coconut oil over medium heat.
Add the chopped onion, minced garlic, and grated ginger to the pan and sauté for 2-3 minutes, until the onion is translucent.
Add the curry powder, cumin, turmeric, salt, and pepper to the pan and stir to combine.
Add the chicken pieces to the pan and sauté for 5-6 minutes, until they are browned on all sides.
Add the diced tomatoes, diced bell peppers, and chopped cauliflower to the pan and stir to combine.
Pour the coconut milk into the pan and stir to combine.
Bring the curry to a simmer and let it cook for 15-20 minutes until the chicken is cooked through and the vegetables are tender.
Taste the curry and adjust the seasoning if needed.
Garnish with chopped cilantro and serve hot.