Cake
JUICY FRENCH TOAST CAKE WITH CHERRIES AND CHOCOLATE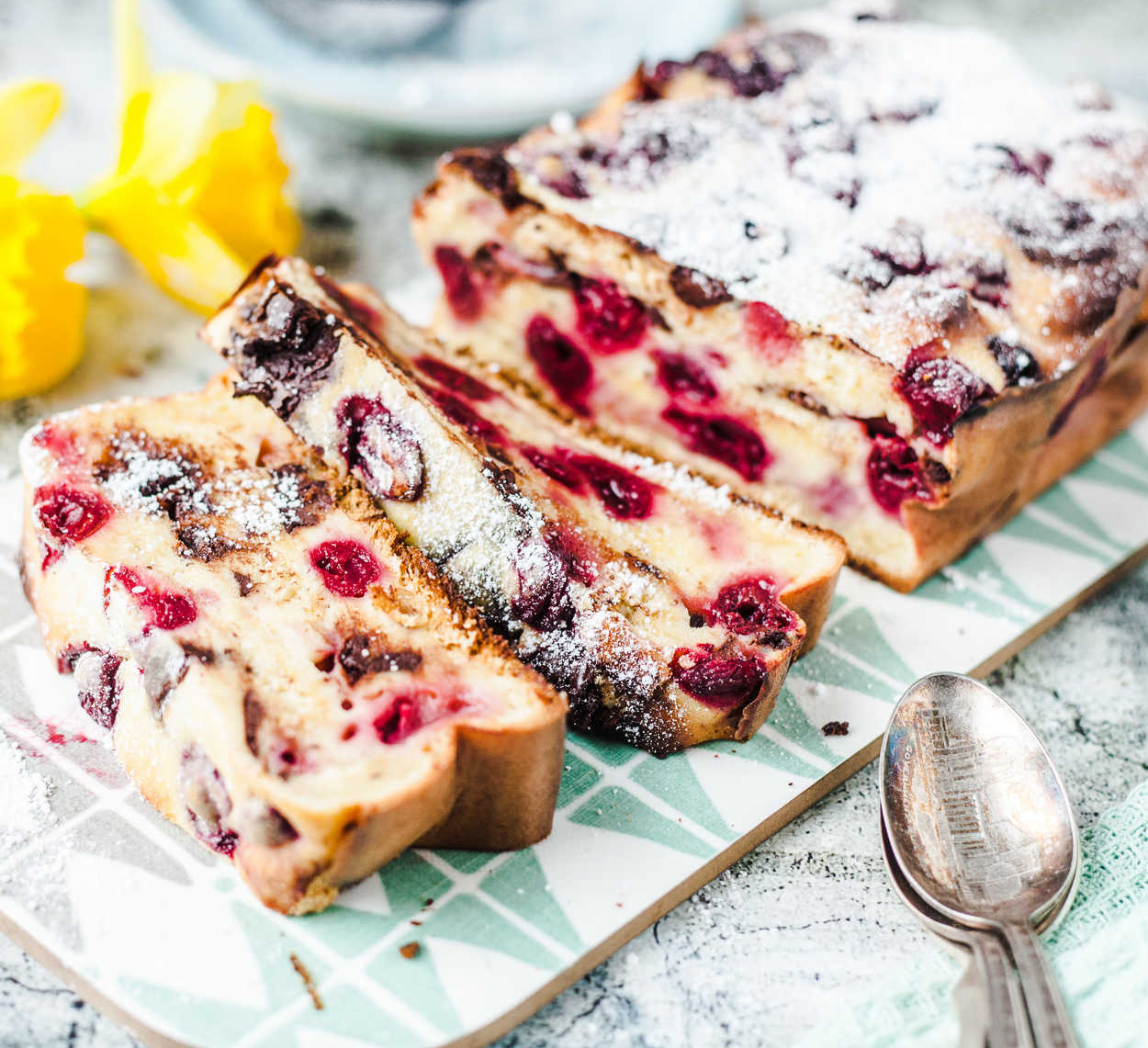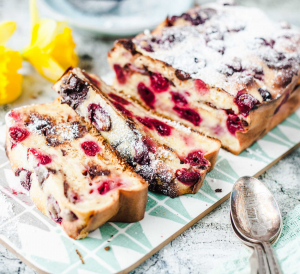 A delicious (Easter) brunch with fresh yeast braid, brioche or sweet rolls is the best! But even after that you can spoil yourself and your loved ones with the leftovers: Already slightly dry leftovers from your Easter biscuits and one or the other gnawed chocolate Easter bunny get a delicious second appearance with the poor knight cake easy-peasy ! Leftovers deluxe, no.
The dry pastry is simply cut into slices or pieces and layered in a loaf pan with chopped chocolate and frozen cherries. A very simple, thin dough is added to this, which combines everything into a moist cake. Poor knights not in the pan, but in the oven. Brilliant!
A little icing sugar on top and your layered cake with juicy cherries and melted chocolate is ready to eat.
Enjoy! ღ
The recipe for juicy French toast cake with cherries and chocolate
Ingredients for 1 cake in the loaf pan 
For the dough:
150 g plain skyr, alternatively low-fat yoghurt
4 eggs, size M or L
1 packet of custard powder, cream flavor
1 pinch of salt
1/2 teaspoon of ground vanilla
100 g of sugar or xylitol
100 g of flour
And otherwise:
approx. 250 g leftover brioche, Easter braid or sweet rolls
200 g cherries, frozen
approx. 90 g chocolate, chopped (Easter bunny, dark chocolate, etc.)
Powdered sugar for dusting
That's how it works:
Preheat the oven to 175 degrees top/bottom heat.
In a mixing bowl, beat the skyr or yoghurt with the eggs, custard powder, salt, vanilla, sugar or xylitol for 2-3 minutes using a hand mixer. Then add the flour and mix well.
Cut the brioche, Easter braid or sweet rolls into slices and line the bottom of the loaf tin with them. Scatter a third of the cherries and chocolate on top and cover with half of the batter.
Place the next layer of brioche, Easter braid or sweet rolls on top and press down firmly. Sprinkle with cherries and chocolate again and cover with half of the remaining batter.
Then layer the last layer of pastry and press firmly. Finally spread the cherries, chocolate and the rest of the batter on top.
Bake the poor knight cake for about 1 hour at 175 degrees. Remove from oven and allow to cool. Cut into slices to serve and dust with icing sugar if desired.