Baking
Muffins recipe
Simple basic recipe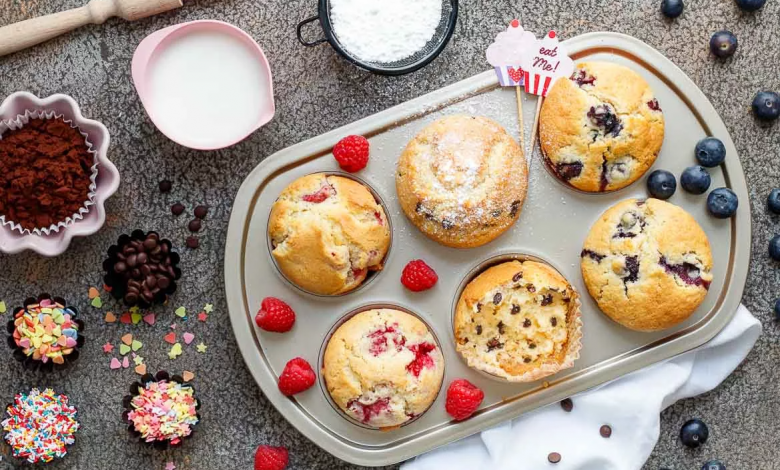 My muffin recipe is the simple, fluffy cake substitute for the coffee table and a constant companion for all children. You can enjoy my quick 35-minute muffins on their own, with berries, fruit, chocolate and all kinds of glazes. A flexible basic recipe for every day and occasion.
When things need to be done quickly and a quick cake or snack needs to be conjured up, then my handy muffins come into play, which can be baked in just 35 minutes. My simple muffin recipe is a "recipe for all cases" because it can be used in a variety of ways. It can be modified to make chocolate muffins, lemon muffins, or berry muffins, for example. With my basic muffins recipe from just a few ingredients, they are always fluffy and moist and are a pleasure all year round.
Muffins are therefore the versatile "small cake", which is also great to prepare and take away. My muffin recipe can always come into play when you have children's birthday parties, a school or kindergarten party, excursions or a picnic on the agenda. My basic muffin recipe always works – I promise!
Making muffins yourself is very easy
My muffin recipe was created in countless baking sessions until it was perfect for me personally. In my Recipes labs kitchen, I have very specific ideas about what the best muffins should be for me.
The basic dough is deliberately a bit firmer so that you are more flexible by what ingredients you put in. If the ingredients are moister, such as frozen berries (frozen berries) or drained cherries from the jar, then it still retains a certain stability. That makes it very flexible.
I think such a simple basic muffin recipe can always be used. One that can be perfectly modified and that is just thrown out of the box with basic ingredients that you usually have in your stash.
Accessories for baking muffins
In addition to the few ingredients, the small cakes made from sponge cake also require a muffin baking tin, also known as a muffin baking tray, which is available in metal or silicone. Usually for 6 to 12 muffins, they should definitely be non-stick. I have used this 12 cup muffin pan (affiliate link) for many years and it has served me well.
In addition to a muffin tin, you should definitely use paper or silicone muffin cases. They are placed in the trays before filling and the muffin particles get the necessary stability during baking when they rise. In addition, they are easier to remove from the troughs and it also looks pretty. I prefer to use paper cups. Because they are now also available in many beautiful colors (affiliate link).
How to store and freeze muffins?
By the way, the small cakes stay nice and fresh for about two days if you keep them in an airtight cake container.
If you want to keep them longer, you can also freeze the baked muffins and simply leave them at room temperature to thaw. So you always have a small cake for in between and you are flexible.
What ingredients do you need for my muffin recipe?
The ingredients for baking muffins are not rocket science, actually all things that you usually have in your stash and if not, they are available everywhere all year round.
Sour cream – has about 20% fat content. If no sour cream is available, for example in Austria there is none or hardly any, then crème fraiche is a good alternative. But Greek yoghurt (10% fat) also achieves good results, as readers have told me.
Vegetable oil – for my muffin recipe with oil I use a tasteless oil such as sunflower oil or rapeseed oil. I prefer to use a high-quality 100% rapeseed oil (affiliate link) for cooking and baking. It is one of the healthiest oils, is tasteless (if you buy a good variety) and can be bought in any well-stocked supermarket.
Fresh eggs – I use medium-sized eggs for best results. Eggs are ideally at room temperature for baking so they combine well with the other ingredients. So you should take them out of the fridge a few hours before you want to use them to bake muffins.
Flour – for the small sponge cakes I use conventional household flour, also known as wheat flour type 405. You can also bake my muffins basic recipe with spelled flour type 630. This variety is very similar in texture and taste to wheat flour, i.e. mild.
Sugar – I use regular white granulated sugar that you can buy at any grocery store.
Baking powder – a necessary leavening agent for my plain muffins too. You can find baking powder packets (affiliate link) in every supermarket baking shelf.
Bourbon Vanilla Sugar – contains extracts of bourbon vanilla and ground vanilla bean. In contrast to vanillin sugar, there is no synthetic flavor. You can also find bourbon vanilla sugar (affiliate link) in every supermarket on the baking shelf.
My basic muffin recipe – the basis for so many variants
My muffin recipe can be varied with so many different ingredients. I've put the craziest things in it, but to be honest, I always ended up going back to the usual suspects because they resonate best with my family. These are my favorite variants:
chocolate muffins
I have already baked the small cakes with chocolate drops, pieces of chocolate bars, with or without chocolate icing and colorful sprinkles or cocoa in the dough. Also a great option with pieces of white chocolate. Baking with chocolate is always a pleasure and you can never go wrong with chocolate muffins ? .
berry muffins
In the berry season, raspberry muffins, blueberry muffins or strawberry muffins with fresh berries are baked in my bakery. Out of season, I always like to use frozen berries (frozen berries), which you can buy in any supermarket. If you decide to use frozen berries, you should know that they can color the base dough a bit. The small frozen fruits just happen to be wetter and the raspberries in particular mash more easily when they are deep-frozen. You don't need to defrost frozen berries – always put them in right away.
Cherry muffins
Fresh pitted cherries taste like pure summer. Juicy muffins with cherries can also be baked all year round. Pickled cherries from the jar or Morello cherries conjure up cherry muffins on the table whenever it suits you.
Lemon muffins
Whether with freshly squeezed lemon juice or the tart lemon zest of an organic lemon. I like the refreshing version. But a muffin with a lemon glaze also has a lot of fans in my family. Incidentally, I like to use the juice and zest of half a lemon in the mixture for lemony muffins. I pour the juice from the other half onto the finished, still hot muffins.
So there are no limits to your creativity. My readers have also reported on variants with banana nuts, canned tangerines or flaked almonds. I definitely have to try that too.
My success tips for my muffins recipe
Baking muffins is really easy and nothing can go wrong with my muffin recipe with the step-by-step instructions with pictures at the end of the article.
You should only follow a few tiny basic rules and tips for the perfect muffin enjoyment:
The muffin batter
A good preparation: In order for the small cakes to rise nicely, the ingredients for the batter must be processed in a mixing bowl quickly, but still calmly. That's why you should have everything ready that you need and also all the ingredients that should end up in the dough.
The right order: The "dry ingredients" should be added to the "wet ingredients" because as soon as the flour and baking powder mixture comes into contact with moisture, it starts to work.
Don't stir too much – part 1: That's why I work quickly with my basic muffins recipe and don't stir too much, otherwise the batter will be tough and later the muffins too. So just stir together until everything is reasonably mixed, maximum 20 seconds. The muffin batter is relatively firm and not creamy, as you are probably used to from a classic batter. With firmness, you're more flexible with the ingredients you put in. The dough remains stable even with moist ingredients, such as cherries from a glass jar.
Don't stir too much – part 2: If you fold in your other ingredients such as chocolate chips or berries according to my recipe, then don't stir too long this time either. Better to stir too little than too much – otherwise the dough may become very tough.
Fill muffin cases
Process the muffin batter immediately: From the mixing bowl, use 2 tablespoons or an ice cream scoop to spread the batter evenly into the muffin paper cases that are in the 12-cup muffin tin.
Muffin Height Tips: I love it when the muffins bake high, so I fill the paper cases to the brim. If you don't want them to bake that high, only fill them 2/3 full. If so, you will have leftover batter for another muffin tin.
bake muffins
Bake the muffin tin in the preheated oven on the middle shelf according to the recipe card below .
Is my muffin batter baked through?
At the end of the baking time, use the skewer to check whether the dough is baked through.
How does the chopstick test work?
Ovens are different and with increasing age, they may no longer develop the necessary heat and distribute it evenly. For the chopstick test, it is best to use a long wooden skewer, also known as a  shashlik or grill  skewer (affiliate link). You pierce it in the middle or at the thickest point in the muffin and pull it out again. If the dough sticks to the stick or the stick is a bit damp, the small cakes need a few more minutes and go back into the oven. I then proceed in 3 minute increments.
Another nice recipe besides my berry muffins and chocolate muffins that you can bake with my basic recipe are my simple banana chocolate muffins. They're the perfect way to use up leftover brown bananas that no one wants to eat anymore.
A simple sponge cake, also very popular not only with children, is my moist lemon cake with yoghurt.
Muffins recipe – simple basic recipe
They are the quick, small cake replacement for the coffee table. My flexible muffins basic recipe can be varied with chocolate, berries or fruit.
INGREDIENTS
YOU WILL NEED A 12 MUFFIN TRAY & 12 MUFFIN CASES
TIPS AND INSPIRATION FOR THE FILLING
MANUAL
WITH MUFFINS, YOU SHOULD WORK QUICKLY SO THAT THEY RISE NICELY! THEREFORE, IT IS BEST TO HAVE ALL THE INGREDIENTS AVAILABLE.
First, heat your oven to 180 °C top / bottom heat (convection 160 °C), prepare your muffin tin (12 cavities) and fill the cavities with 12 muffin paper cups .

NOTE: If you don't want to bake the muffins so high, you can only fill the paper cups about two-thirds full with the batter. Then there will probably be more than 12 muffins and of course you will also need another muffin tin.

Now mix the " DRY " INGREDIENTS in a bowl with a wooden spoon: 300 g flour , 150 g sugar, 3 teaspoons baking powder (11g), 1 packet of bourbon vanilla sugar .

NOTE: Dry ingredients would also include, for example, chocolate chips or baking cocoa – if you have planned that.

Then mix all the " WET " INGREDIENTS in another (mixing) bowl with a hand mixer or food processor until the ingredients have combined to form a mass: 2 eggs , 100 ml vegetable oil and 200 g sour cream .

NOTE: You would stir some lemon juice, for example, into the wet ingredients at this point.

Now add the  dry  ingredients  to the  wet ingredients.

Mix them together just enough to mix them together (about 20 seconds).

NOTE: Don't be surprised, you will get a relatively firm and not creamy batter. Depending on the additional ingredient selected, the dough will either become more supple with additional moisture or not.

In this step, quickly fold YOUR ADDITIONAL INGREDIENT(S), such as berries, fresh or frozen , under the batter with a wooden spoon . Do not stir for too long otherwise the dough may become very tough.

NOTE: If you decide to use frozen blueberries or raspberries, for example, your dough will be almost completely discolored because the fruits are not as stable as fresh berries. But that doesn't matter.

IMMEDIATELY divide the batter evenly into the 12 muffin paper cups using 2 tablespoons or, even more practical, an ice cream scoop . Bake for 25-30 minutes on the middle shelf in the preheated oven and at the end use the "skewer test" to check whether the dough is baked through.

NOTE: I fill the paper cups completely, so they bake high. If you don't want that, as already mentioned, only fill about two-thirds full.

The freshly baked muffins will stay fresh for about two days in an airtight container. You can also freeze them and then thaw them at room temperature. Enjoy your meal!

I wish you a lot of fun with my flexible muffins recipe and a good appetite.