Diet & Proteins
Grilled Salmon with Mango Salsa Recipe: A Flavorful and Healthy Meal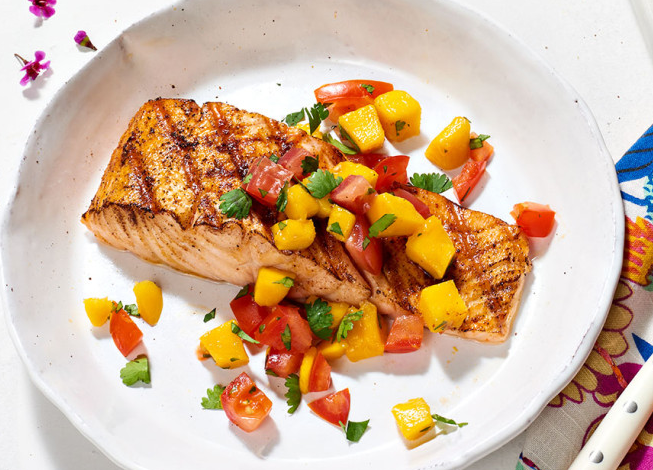 Grilled salmon is a healthy and flavorful dish that is perfect for a summer barbecue or a weeknight dinner. When paired with fresh and tangy mango salsa, it becomes a truly delightful meal. In this article, we will share with you an easy-to-follow recipe for grilled salmon with mango salsa that will impress your family and friends. Ingredients:
| Ingredient | Quantity |
| --- | --- |
| Salmon fillets | 4 |
| Salt and pepper | To taste |
| Olive oil | 2 tbsp |
| Mango, peeled and diced | 1 |
| Red onion, diced | 1/2 cup |
| Red bell pepper, diced | 1/2 cup |
| Cilantro, chopped | 1/4 cup |
| Lime juice | 2 tbsp |
| Honey | 1 tbsp |
| Jalapeño pepper, seeded and minced | 1 |
Instructions:
Preheat your grill to medium-high heat.
Season the salmon fillets with salt and pepper, then brush them with olive oil.
Grill the salmon fillets for about 5-6 minutes per side, or until they are cooked through.
While the salmon is grilling, make the mango salsa.
In a medium bowl, combine the diced mango, red onion, red bell pepper, cilantro, lime juice, honey, and minced jalapeño pepper.
Mix well to combine all the ingredients.
Taste the salsa and adjust the seasoning if needed.
Once the salmon is done, remove it from the grill and let it rest for a few minutes.
Serve the grilled salmon with a generous spoonful of mango salsa on top.