Diet & Proteins
A Quick and Easy Beef and Broccoli Stir-Fry Recipe for Busy Weeknights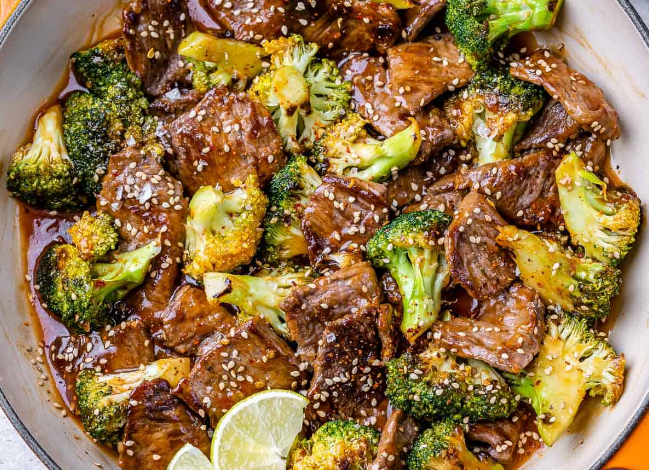 Beef and
broccoli
stir-fry is a classic Chinese dish that's both delicious and easy to make. It's a great way to get your protein and veggies in one dish, and it's perfect for busy weeknights when you need to get dinner on the table fast. This recipe is quick, easy, and sure to be a hit with the whole family.
Ingredients:
| Ingredients | Quantity |
| --- | --- |
| Flank steak, sliced thinly | 1 pound |
| Cornstarch | 2 tablespoons |
| Soy sauce | 2 tablespoons |
| Rice wine (or dry sherry) | 1 tablespoon |
| Sesame oil | 1 teaspoon |
| Black pepper | 1/4 teaspoon |
| Vegetable oil | 2 tablespoons |
| Broccoli florets | 1 head |
| Garlic, minced | 2 cloves |
| Fresh ginger, minced | 1 tablespoon |
| Beef broth | 1/4 cup |
| Oyster sauce | 1 tablespoon |
| Cooked rice | for serving |
In a medium bowl, mix together the cornstarch, soy sauce, rice wine, sesame oil, and black pepper. Add the sliced flank steak and toss to coat.
Heat the vegetable oil in a wok or large skillet over high heat. When the oil is hot, add the sliced flank steak and stir-fry for 3-4 minutes, or until browned on all sides.
Add the broccoli florets, minced garlic, and minced ginger to the wok. Stir-fry for another 2-3 minutes, or until the broccoli is tender-crisp.
In a small bowl, whisk together the beef broth and oyster sauce. Pour the mixture into the wok and stir-fry for another minute, or until the sauce has thickened.
Serve the beef and broccoli stir-fry hot, over a bed of cooked rice.
This beef and broccoli stir-fry recipe is a quick and easy way to make a delicious and healthy dinner for your family. The flank steak is a lean source of protein, while the broccoli is a nutrient-rich vegetable that's packed with fiber and vitamins. The cornstarch helps to thicken the sauce and gives the beef a crispy coating, while the soy sauce and oyster sauce add savory flavor to the dish. You can adjust the amount of garlic and ginger to your liking, or add other vegetables like carrots or bell peppers to the stir-fry.