Seafood
TUNA MEATBALLS LOW CARB AND SUPER DELICIOUS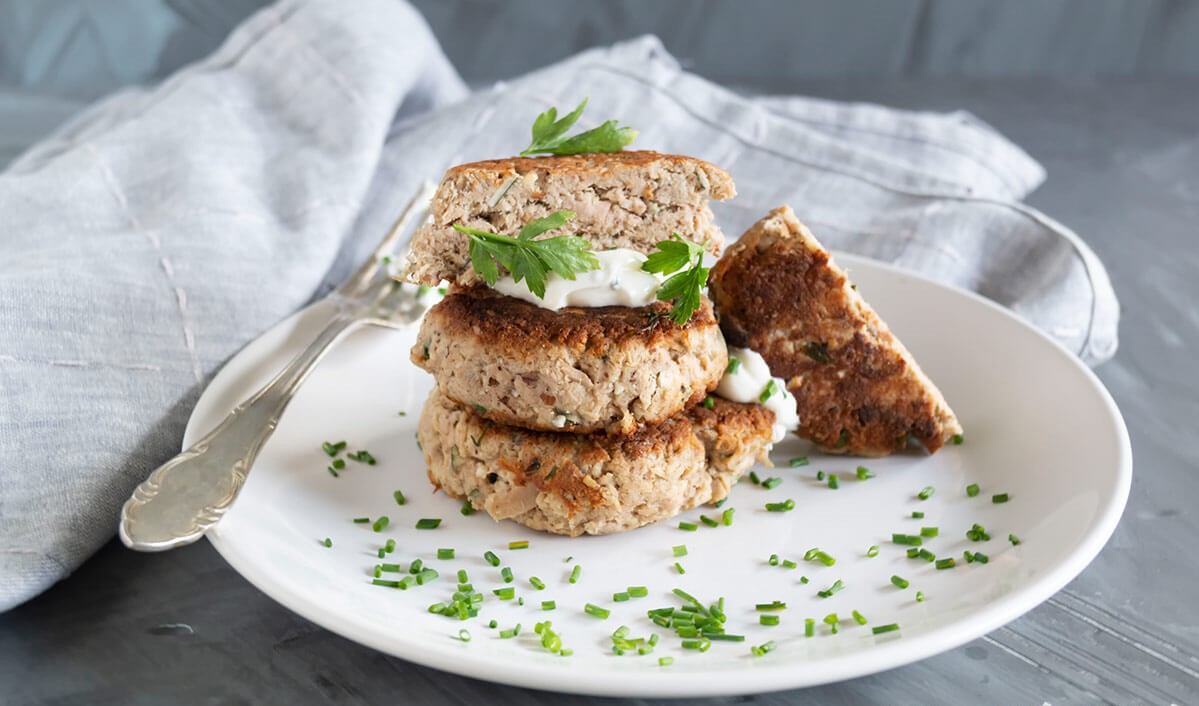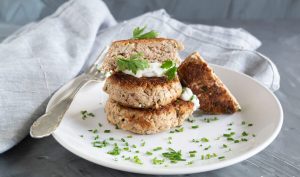 Lots of protein, hardly any carbohydrates and a lot of taste. Try making these delicious low carb tuna cakes!
Do you want to lose weight or are you currently training and therefore consume a lot of protein? Then you should definitely try these delicious tuna meatballs.
Because patties alone are not enough, we prepare the low-carb tuna fritters. Because let's be honest: We all eat far too many carbohydrates.
I want to show you that you can get full without carbs. And that patties can't just be made from meat.
The fish patties are super tasty, prepared very quickly and no witchcraft even for beginners.
What ingredients do I need for low carb tuna cakes?
Before we get to the recipe, let's take a look at the ingredients. After all, you should know what you eat.
A little oatmeal here, a little flour there – no. Because then too many carbohydrates end up in our low-carb tuna meatballs. By the way, you don't need binding agents like flour for these patties anyway. They also hold together without them and don't fall apart in the pan – why? Let's look at that now.
Most people only know patties with minced meat, but there are countless variations. From vegan, low carb, paleo to pure vegetable patties. You can shape pretty much anything into a patty. Believe me, I know what I'm talking about – I'm big on meatballs of all kinds.
But let's quickly see what you need to prepare for this recipe.
tuna
He is the star among the ingredients. This time he plays the leading role and provides flavor and texture. Tuna cannot be missing from the plate of most athletes. It contains an unbeatable 29 grams of protein per 100 grams. And just 100 calories per 100 grams.
It keeps you full for a long time and is a good source of omega-3 fatty acids. If you want to save calories and fat, you can use canned fish in its own juice.
low-fat quark
We're adding another protein source to the patties. Namely low-fat quark. It has an average of 13 grams of protein per 100 grams. It too should not be missing from the nutritional plan of health-conscious people. If you only have classic quark at home, you can of course also use this.
Quark ensures the creamy and juicy consistency in the tuna meatballs.
Eggs in the tuna patties
So that the patties don't fall apart later, the egg comes into play. It sticks while frying and makes the meatballs firm. It also ensures that the patties get that nice color when they are roasted.
almonds
Grated almonds bring healthy fats and, in turn, a load of protein into play. If you don't have any, you can use ground hazelnuts . If you only have whole almond kernels, simply chop them up with a knife – pieces should still be visible.
Almonds provide a bit more bite and the healthy fats.
Spices
The rest of the ingredients are for taste. Garlic powder, chili, mustard, salt, pepper and parsley. You can add them to the recipe however you like. By the way, chili is optional and only recommended for those who like it spicy. You can simply omit them, it changes little – except for the sharpness.
You can find more inspiration for spices under the recipe. Here I have written down a list of ingredients for you that are good in the base. Maybe there is one or the other idea for you here.
If you like to cook yourself and make sure you use fewer carbs, then you will find many more recipes in the Happy Carb cookbook . To be precise, there are 150 low-carb recipes that are really delicious. I also got the inspiration for the patties from the book. The book is by blogger Bettina Meisel Bach, who is an enthusiastic low-carbine herself and has lost 60 kg with it.
But even if you don't want to lose weight or don't eat low-carb permanently, the book is definitely worth recommending. You will find a lot of variety in it and what I like so much: recipes that can be prepared quickly.
This recipe for patties is
Keto and low carb suitable
very long satiating
packed with protein
prepared in no time
very versatile and can be prepared in different ways
Also ideal for beginners
What side dish makes tuna cakes low carb
Normally you would now eat potatoes as a side dish. Or maybe add sauce to it and then serve with pasta. But then the whole thing would no longer be low carb.
So what do we do now?
My absolute favorite is cucumber salad with sour cream, dill and garlic. That also makes the whole thing a bit juicier.
A crisp green salad also goes very well with the meatballs. Either the classic green or a colorful mix of many delicious ingredients. Of course, if you eat a low-carb diet, all the side dishes from our low-carb side dish list go well with the patties.
If you take low carb very seriously, you should avoid carbohydrate-rich ingredients in the salad. You can conjure up a low-carbohydrate salad from many delicious types of vegetables.
A quick dip made from sour cream, finely chopped herbs and garlic completes the recipe.
Is your mouth already watering? Very good! 🙂 Then let's get started right away! Here are the best tuna patties you've ever eaten.
ingredients
2 

cans 

of tuna in its own juice

2 

tablespoons 

low-fat quark

1 

egg

2 

tbsp. 

chopped pumpkin seeds

2 

tbsp. 

ground almonds

1 

tsp 

garlic powder

1/2 

chopped chili pepper

1 

tsp 

mustard

1/2 

bunch 

chopped parsley

Salt and pepper to taste
Instructions
Drain the tuna well and squeeze out the liquid. Put it in a bowl.

Add the quark, egg, pumpkin seeds, almonds, garlic powder, chili pieces, mustard and parsley and knead with your hands.

Finally season with salt and pepper. Place the bowl in the fridge for 20 minutes.

Form 6-8 meatballs and fry them on both sides with a little olive oil. Tip: Turning rarely is better than too often – otherwise the tuna patties may fall apart.
notes
This recipe contains per serving:
0.8 grams of carbohydrates
9.3 grams of protein
2.8 grams of fat
nutritional values
Calories:
35 
calories
Carbohydrate:
1g 
_
Protein:
9.3g 
_
Fat:
2.8g 
_
saturated fats:
1g 
_
Polyunsaturated fat:
1g 
_
Monounsaturated fatty acids:
1g 
_
trans fats:
1g 
_
Cholesterol:
27 
mg
Sodium:
14 
mg
Potassium:
27 
mg
Fiber:
1g 
_
Sugar:
1g 
_
Vitamin A:
83 
IU
Vitamin C:
6 
mg
Calcium:
6 
mg
Iron:
1 
mg
What can I refine the patties with?
If you want, you can add a few more spices to make it taste even more intense. These fit particularly well and ensure that the tuna patties remain low carb:
paprika powder
curry powder
chili powder
Kernels such as pumpkin seeds, sesame, sunflower seeds, flaxseed
chili salt
garlic or garlic powder
onions
Mustard
Spicy ketchup
tomato paste
cottage cheese instead of cottage cheese
Thyme and Oregano
Parsley
coriander
basil
rosemary
Our conclusion
These patties are perfect for those who want to eat fewer carbohydrates. To prepare low-carb tuna cakes, you don't need flour, oatmeal, or any other ingredient that's high in carbs.
You can also save calories and carbs with salads if you choose the right varieties.
Good luck and enjoy it! 🙂