Diet & Proteins
Paleo Breakfast Bowl Recipe: A Delicious and Nutritious Start to Your Day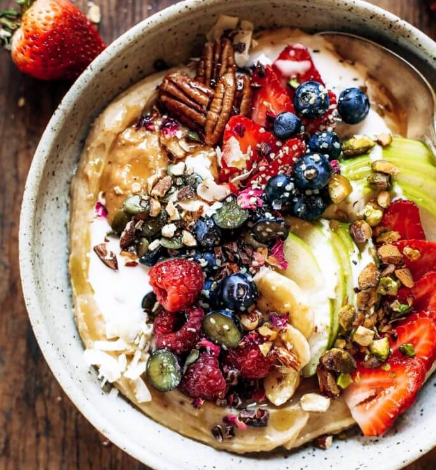 If you're looking for a healthy and satisfying breakfast option that fits within the guidelines of the paleo diet, then look no further than this delicious Paleo Breakfast Bowl recipe. This nutrient-packed meal is filled with protein, healthy fats, and fiber, making it a great way to start your day on the right foot. Ingredients:
| Ingredients | Quantity |
| --- | --- |
| Sweet potato | 1 medium, diced |
| Olive oil | 1 tablespoon |
| Salt | 1/2 teaspoon |
| Black pepper | 1/4 teaspoon |
| Garlic powder | 1/4 teaspoon |
| Ground cumin | 1/4 teaspoon |
| Paprika | 1/4 teaspoon |
| Ground turmeric | 1/4 teaspoon |
| Ground ginger | 1/4 teaspoon |
| Avocado | 1/2, diced |
| Cherry tomatoes | 1/2 cup, halved |
| Spinach leaves | 1 cup |
| Eggs | 2 large |
| Fresh cilantro | 1 tablespoon, chopped |
Instructions:
Preheat your oven to 400°F (200°C).
In a large bowl, mix the diced sweet potato, olive oil, salt, black pepper, garlic powder, ground cumin, paprika, ground turmeric, and ground ginger until the sweet potato is well coated.
Spread the sweet potato mixture out onto a baking sheet in a single layer.
Bake in the preheated oven for 20-25 minutes or until the sweet potatoes are tender and lightly browned.
While the sweet potatoes are cooking, dice the avocado, halve the cherry tomatoes and chop the fresh cilantro.
In a large skillet, heat a bit of olive oil over medium heat.
Crack the eggs into the skillet and cook to your desired level of doneness.
To assemble the breakfast bowl, start with a bed of spinach leaves, and add the roasted sweet potatoes, cherry tomatoes, and diced avocado. Top with the cooked eggs and chopped cilantro.
Serve immediately and enjoy!
This Paleo Breakfast Bowl is a great way to start your day with a healthy and satisfying meal. The combination of sweet potatoes, eggs, avocado, and fresh veggies provides a variety of important nutrients, including vitamins A, C, and K, as well as protein and healthy fats. Plus, it's easy to customize this recipe to suit your tastes by adding in additional veggies, swapping out the sweet potatoes for another root vegetable, or adjusting the spices to your liking.