Seafood
Fillets Of Sea Bream
Fillets of sea bream in the Romagna style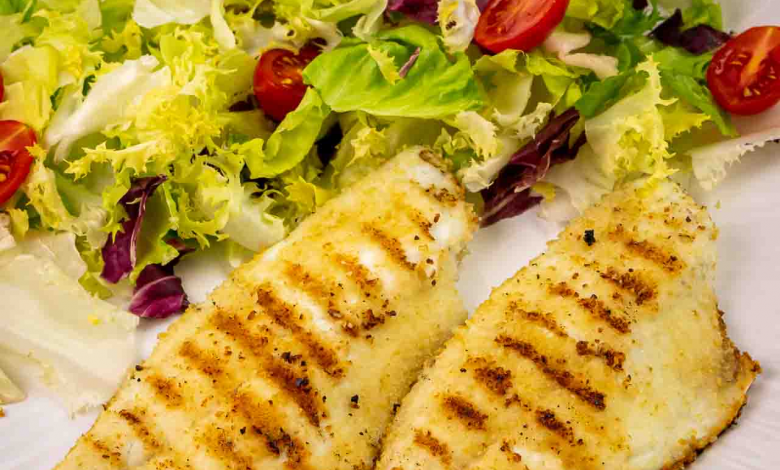 Fillets Of Sea Bream
Do you want to know how to cook grilled or grilled fish with breadcrumbs? Fillets Of Sea Bream These Romagna-style sea bream fillets are the recipe you were looking for.
Breaded sea bream fillets with breadcrumbs on the grill: the recipe
Fillets of sea bream all Romagnolo (grilled with breadcrumbs)
These fillets of seabream with flavored breading can be cooked in a few minutes in any grill pan and are delicious.
Ingredients
4 

sea bream fillets

breadcrumbs 

to taste

garlic powder to 

taste

extra virgin olive oil to 

taste

salt 

to taste
Instructions
1) Grease the sea bream fillets and sprinkle them first with garlic powder, breadcrumbs, and a little salt.
2) Spray the breaded fillets with an oil sprayer or simply grease them with a little oil (in this case they will increase the calories a little because you will end up using a little more oil).
3) Cook the fillets on a grill (see the one I use) over medium heat for about 3 minutes per side. NB: grill the skinless side first and then turn the fillets only once.
4) Transfer to plates and serve.
Note
The custom of sprinkling fish fillets with breadcrumbs (and any flavorings) is typical of the coastal areas of Emilia Romagna and Marche. There is no single recipe for breading to be used and it depends a little on local customs, traditions, and habits. Many, for example, are used to grease and flavor the breadcrumbs before distributing them on the fish, others use parsley, etc. So the people of Romagna do not want it if I have deviated a little from their habits and I have done a bit of my own mind. Personally:
They did not use parsley in the breading because I find that the taste of parsley generally makes it better when raw (and so I don't even run the risk of burning it);
I limited myself to sprinkling a minimum quantity of oil first on the fillets and then on the breading, I find that the dish has gained in lightness compared to greasing the breading first;
I used garlic powder because I find it more practical in this specific preparation. In fact, it has the same particle size as breadcrumbs and lends itself well to being one with the latter.
NB: I like to talk to my readers. Use the comments to tell me what you think about the recipe or to ask me for an explanation if you don't understand something ?
Advice
If you buy whole sea bream and you (or your fish shop) fillet them, it is better not to remove the scales. They will act as a "heat shield" and help keep the threads compact, reducing the risk of breaking them when turning them.
Variants and alternatives
The recipe lends itself to a thousand variations. You can play by enriching the bread with aromas of your taste (lemon peel, rosemary, turmeric, etc.). You can change the type of fish (using caught fish such as mullet, sole, mackerel, etc. the recipe is even better).
storage
This is a recipe that is really prepared in a few minutes and is not worth the trouble to prepare it in advance to consume it later. If you have some pre-cooked fillets left over, you can keep them in the refrigerator for 24 hours and heat them in a pan for a few minutes over medium-low heat.
What wine to pair with breaded and grilled seabream fillets
Grilled seabream with breadcrumbs has a rather delicate flavor and is suitable for different combinations. Both dry whites and bubbles can work well. Personally, since it is a very simple and quick dish to prepare, I usually accompany it with a common and honest prosecco.
Frequently Asked Questions (FAQ)
What is the cooking time for grilled seabream with breadcrumbs?
The actual time varies according to the thickness of the threads. For small to medium-sized sea bream like the ones I used, a time of 2-3 minutes per side can be considered. NB: medium-small fish are preferable as in that case the rather short cooking time makes it easier to avoid burning the breadcrumbs.
How much does the sea bream cost per kg?
Between 5 and 35 euros per kg depending on the origin and quality (very bad in the case of sea bream from only 5 euros per kg).
Why is it called sea bream?
Because this fish species is characterized by a golden band between the eyes of the fish (from which it takes its name)