Dessert
Steamed Strawberries Vanilla Cream
The simple and quick dessert with warm strawberries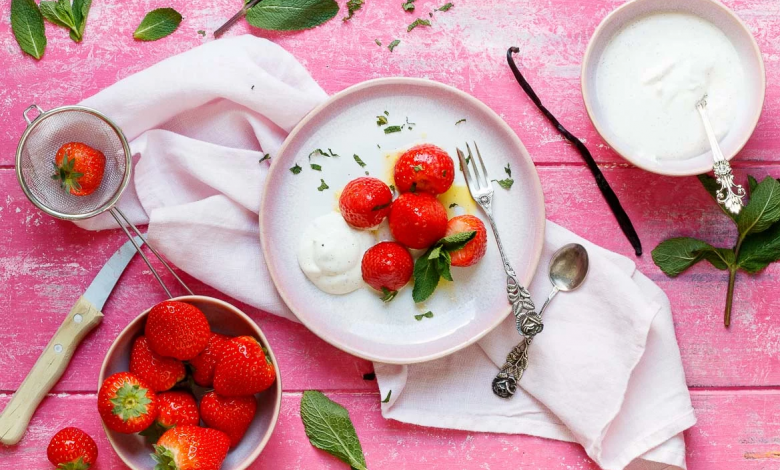 Steamed Strawberries Vanilla Cream
My current conversations with my 12-year-old, mostly while munching strawberries, revolve around the question of what he wants to be when he grows up. They usually start with the question: "Well, mom, what do I do if my dream of becoming a basketball pro doesn't come true!?". Well, there it is, the well-known realism from the adult world. Unfortunately earlier than I would have expected. To be honest, Steamed Strawberries and Vanilla Cream makes me a little sad. Building a castle in the air with him was at least as fulfilling for me as it was for him.
Also because it catapulted me back to my childhood. How I felt when I talked for hours with my girlfriend about my (unrealistic) career dream of becoming a dancer with the German TV Ballet. We both painted everything in exuberance and then danced around in the children's room with loud music and hair blowing in the air. Preferably in my favorite skirt with little strawberries on it. It turned out to be the most beautiful of all…
I am eagerly awaiting the strawberry season
Strawberries can not only make girls' skirts turn, but also make hearts beat faster ? . Definitely mine. My absolute favorite fruit and my declared little comforter. When I get very good organic quality, the particularly aromatic taste brings me back to my childhood at the latest. By the way, you can eat as many strawberries as you want because they have hardly any calories ? .
You can find more information about strawberries, when they are in season and when they are available from local cultivation, as well as everything about correct storage, preparation, and what else needs to be considered in my strawberry season calendar:
Steamed strawberries with vanilla cream – a dessert with a difference
This time I let my strawberry love run wild in a desert. Inspired by a visit to a restaurant that felt like decades ago. Steamed strawberries topped with vanilla cream. Strawberries sautéed in butter in a pan and warmed up. The butter sauce is then refined with orange juice. Warm strawberries are a real delicacy and make the small vitamin C bombs even more digestible for sensitive stomachs.
If you only half-whip the vanilla cream for the steamed strawberries, the taste of the cream will be particularly delicious. It's not as greasy as stiff whipped cream. Incidentally, half-whipped means that the cream has a creamy consistency. You stop hitting before she starts to get stiff.
The steamed strawberries with vanilla cream bring a nice change to the strawberry dessert world. They will definitely cause a brief astonishment in your loved ones.
Steamed strawberries with vanilla cream
A nice alternative to the classic strawberry desserts. The simple and quick dessert with warm strawberries is always something special.
INGREDIENTS
FOR THE STRAWBERRIES
250 

g 

strawberries

 – 

smaller ones if possible

30 

grams 

of butter

1 1/2 

tablespoons 

orange juice

 – 

freshly squeezed if you like

Sugar

 – 

to taste

Mint leaves

 – 

For decoration
FOR THE VANILLA CREAM
100 

grams 

of cream

1 

vanilla pod

 – 

the pulp of it

1/2 

tbsp. 

powdered sugar
FOR THE VANILLA CREAM
For the cream, remove the core of 1 vanilla pod by slitting it open with a small, sharp knife and scraping out the core with it.

Then you give the vanilla pulp and 1/2 tablespoon of icing sugar to 100 g of cream, whip it up, and put it aside in the fridge.

NOTE: If you only half-whip them, the flavor won't be as greasy as stiff whipped cream.
FOR THE STRAWBERRIES
Wash the 250 g strawberries and remove the green. Also, wash the mint leaves for the later garnish, shake them dry and if you like, cut some of them into small pieces.

Then melt the 30 g butter in a non-stick pan, let it get foamy hot, and add the strawberries for about 1 minute. Turn very carefully a few times and cover (glaze) again and again with melted butter from the pan.

Carefully remove the strawberries from the pan and park them on a plate. Then add 1.5 tablespoons of orange juice (freshly squeezed or direct juice) to the butter and season with sugar.

Then you distribute the strawberries evenly on four dessert plates, pour some of your butter and orange sauce over them, add some vanilla cream and garnish everything with a few mint leaves. I wish you a sweet appetite.