Seafood
Puff Pastry Pizza With Smoked Salmon & Dill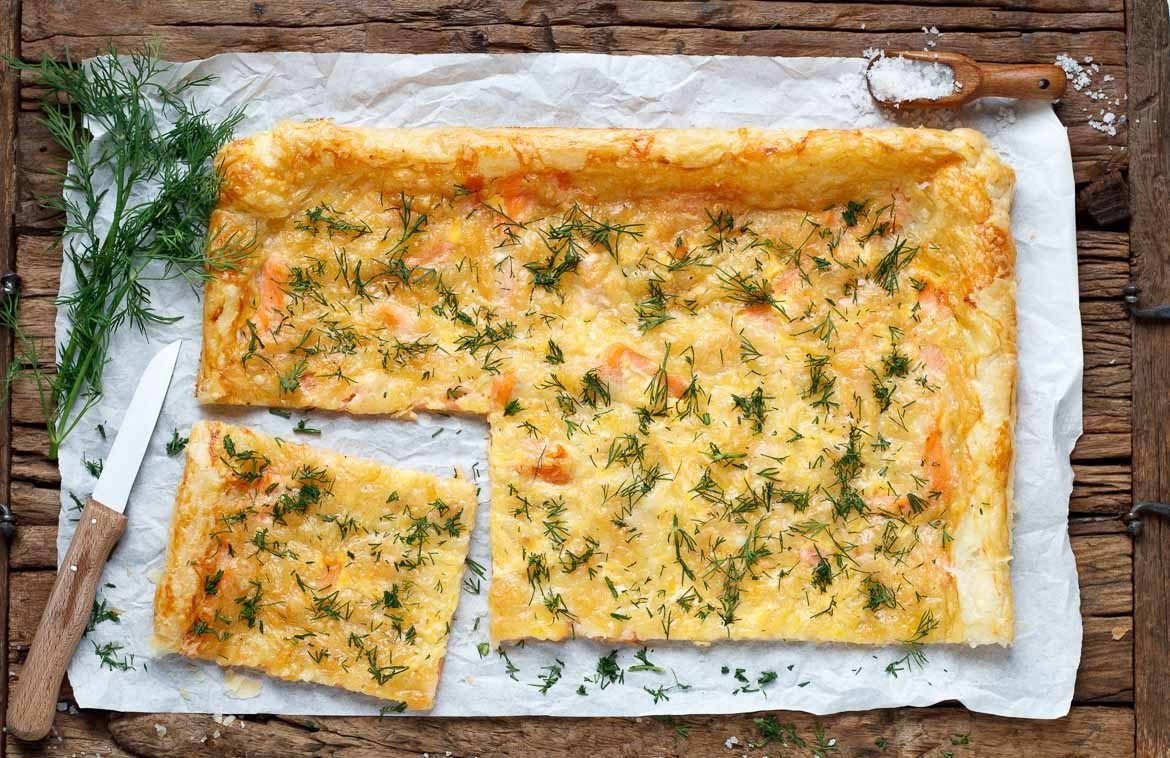 I think you should always have some recipe trumps up your sleeve . Those who are quick to help you in some situations and are prepared quickly and without great effort. My puff pastry pizza with smoked salmon and dill is such a "trump-in-the-sleeve". Because she is not only fast "shaken out of the sleeve" but also tastes very tasty cold, which makes it even more versatile.
Of course, the fine smoked salmon makes a big contribution to the taste. He is a delicious, healthy all-rounder who has a permanent place in my kitchen. Not only for so many cold dishes, it is the icing on the cake but also for hot food. Also so delicious when it is processed into finger food or just "just" on a fresh roll for breakfast. Either way, just to fool.
The puff pastry pizza with smoked salmon and dill has served me well on many occasions. Whether for a quick dinner for my men and me, as a contribution to a buffet, or if dear friends come for a glass of wine – spontaneous or long planned. The puff pastry pizza with smoked salmon and dill is versatile and by the smoked salmon really something special.
Incidentally, the type of preparation is also called "Sweden pizza". In some variants she has already met me with sour cream, creme fresh or sour cream, which was added to the egg-cheese mass. However, I did not use my recipe because I wanted to taste the smoked salmon more intensively. Dairy products always take away flavor easily.
I have also taken for the recipe in my view enough smoked salmon quantity for a harmonious flavor composition, at least as we like it. In addition, the quantity of the costs are manageable, because high-quality smoked salmon is not exactly cheap. At the place you can also vary and use more smoked salmon for the puff pastry pizza, if you want. Incidentally, I usually serve a green salad with it.
---
Puff Pastry Pizza With Smoked Salmon & Dill
PREPARATION 10 minutes PREPARATION 15 minutes TIME TOTAL 25 minutes PORTIONS 4 people
---
INGREDIENTS
2 packs of 275 g / or 270 g puff pastry – from the refrigerated rack
200 g salmon, smoked
300 g Middle Age Gouda, freshly grated – or Gruyère or Emmentaler
4 eggs – size M
1/2 teaspoon sea ​​salt
1/4 tsp pepper, white
1/4 teaspoon nutmeg, freshly grated
10 g dill, fresh – finely chopped
---
MANUAL
1.The first thing you do is to heat the oven to 180 degrees .
2.Then grease the baking tray and  lay out the two puff pastries on it and consider an edge.
 PLEASE NOTE: Mostly you have to get the finished puff pastry for better processing about 10 minutes before the refrigerator. 
3.Then pluck the salmon into pieces and spread on the puff pastry.
4.The 4 eggs with spices , whisk and freshly grated  middle-aged Gouda , mix. 
5.Then  distribute the egg and cheese mixture on the  salmon puff pastry .
6.For about 15 minutes on the middle rail in the preheated oven or until cheese and puff pastry are baked nice golden brown . 
7.Before serving, add the finely chopped dill to the puff pastry pizza. I wish you a good appetite !
---
WHAT DO YOU MEAN?
Did you try the recipe once? How do you find it? I am always happy about praise, friendly criticism or your tips and experiences. Let us stay in the exchange via the comment function below. I would be happy.