Seafood
Fast Shrimp Pasta – In 20 Minutes On The Table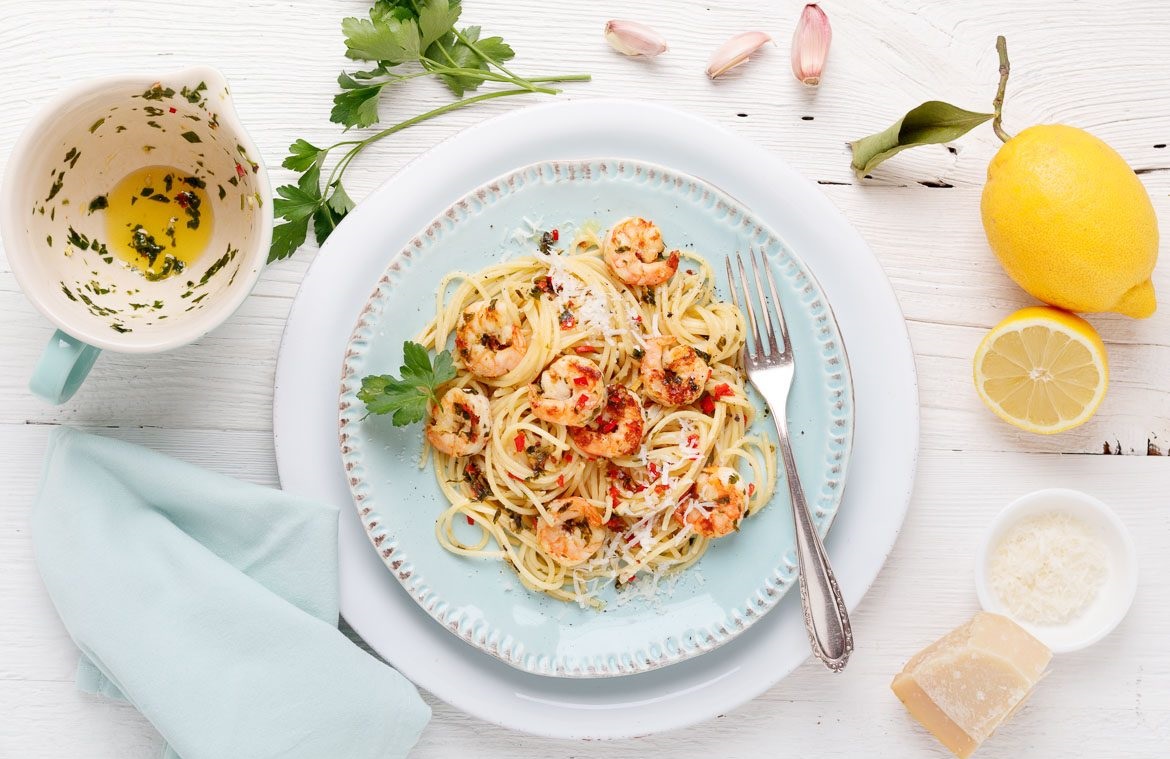 Sometimes I wonder why time actually runs like this, racing past me and I do not know where she stayed. And no matter who I ask around me, it's somehow all so ……. whoosh is another day, weeks even months. But what good is the lamentation, we live in this fast-paced time where we are all clocked through. For me in these extreme time-deficit-high phases like one or the other fast dish, like my shrimp pasta and seen in this way, the time-rage then has something positive.
So when there is a lack of time, it really comes down to every famous minute. But with this recipe, you are on the safe side in terms of time. Because the shrimp pasta is conjured up in 20 minutes on the table. A delicious noodle dish with delicious, crispy fried shrimp and a nice chili sharpness.
THE FAST SHRIMP PASTA CAN YOU SHINE AFTER POPULAR
Incidentally, you can control the chili sharpness very well by using more or less dried chilli flakes or even omitting them. With the fresh chili peppers, you do not have to worry if you remove the kernels, they are not that spicy anymore. But still delicious .
But not only in times of lack of time the shrimp pasta is just great, even if the big hunger wants to be satisfied quickly. However, you need ready to cook shrimp. Say prawns that are fresh or already thawed, otherwise it does not cut time with the 20 minutes .
THE MYSTERY OF SELF-MADE OLIVE OIL-MIXTURE OF MUSHROOMS
In the shrimp pasta, the olive oil seasoning mix plays the crucial role. You stir almost all your spices with the olive oil, pour over the fried shrimp with it and leaves everything for about 1 minute taste connect with each other. Salt, in which case I take sea salt, I use only when the spaghetti on the plate are prepared. The same applies to black pepper. I definitely recommend a high quality olive oil. The rule of thumb always means fewer ingredients for me, the higher the quality of the ingredients must be.
---
Fast Shrimp Pasta – In 20 Minutes On The Table
PREPARATION 10 minutes PREPARATION 10 minutes TIME TOTAL 20 minutes PORTIONS 4 people
---
INGREDIENTS
400 g spaghetti – 8-9 minutes cooking time or other kind of pasta
450 g prawns, raw and peeled – ready to cook
10 tbsp olive oil – extra virgin (extra virgin )
1 tbsp lemon juice – a fresh lemon
2 chili peppers, red and fresh – core and finely chop
1 pinch pepper flakes, dried
3-4 garlic cloves – finely diced
20 g parsley, smooth and fresh – very finely chopped
Sea salt and black pepper
---
MANUAL
The Spaghetti You prepare  in boiling salted water according  to package directions to. 
The  shrimp  you can  wash and  dry pat . 
Now heat 3 tablespoons of olive oil in a non-stick pan and fry the prawns over  medium heat for about 1.5-2 minutes each side . 
For the olive oil mixture : Mix the remaining  7 tbsp olive oil, 1 tbsp lemon juice , finely chopped garlicand  chili peppers , 1 pinch of chilli flakes  and  parsley . 
The olive oil mixture on the prawns give and together for about 1 minute over medium heat  slightlyfry. The garlic should not be too dark otherwise it will be bitter. 
The Spaghetti drain and still dripping wet with the shrimp mix . Serve on plates and season with sea ​​salt and pepper  .
I wish you a good appetite !
---
WHAT DO YOU MEAN?
Did you try the recipe once? How do you find it? I am always happy about praise, friendly criticism or your tips and experiences. Let us stay in the exchange via the comment function below. I would be happy.