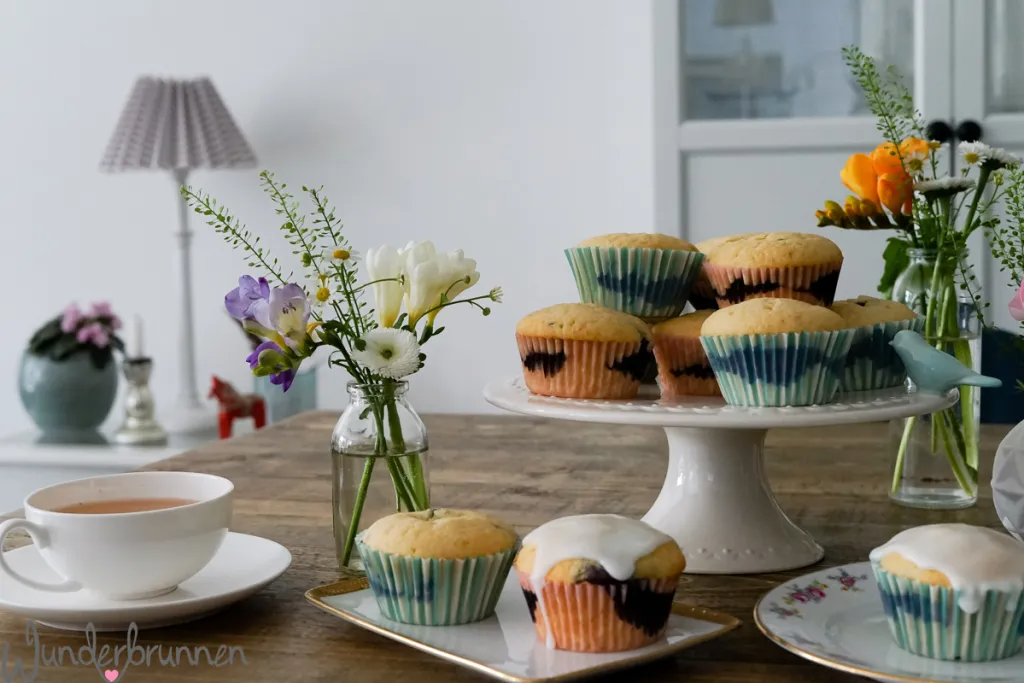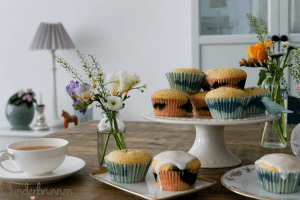 My dears, this year, on the occasion of my blog birthday, there are again great guest posts from lovely people I have met in recent years and who have inspired me a lot. It starts with a very special person. I've known her for almost three years now and she's been at every one of my birthday parties so far, so of course she couldn't be missing this year either! I just love her blog and enjoy her photos and unusual recipes. Alena and I now have a very good friendship that I don't want to do without anymore. From acquaintances, we eventually became blogger friends and this has resulted in what I call my closest circle of friends. you are one of our closest friends and we are very happy about that. That's why I'm all the more pleased that you brought me these pretty blueberry muffins and now hand over the scepter to you:
---
"Happy birthday to yooouuu, happy birthday to yooouuu – yes, do you all have a catchy tune now? Good ? There just has to be a serenade for a birthday! Allow me to briefly introduce myself: I'm Alena, a passionate hobby photographer and absolutely no singing talent. That's why my serenade can be virtual ? I've been blogging on  for a little over two years and love it like the first day! Anyone who has been following me and Graziella for a long time knows that my blog might not even exist without her. I always thought that it would be very complicated and I didn't really dare to do it. Then I met Graziella. were colleagues and we quickly realized that we got along incredibly well. And then she gave me one (or more) nudges – that's how my blog came about ?
Awesome, Graziella's food blog has been around for three years now. Somehow it seems to me a lot longer – no wonder when you consider what she has mastered and put on her feet in that time! Anyway, I take my hat off to you, dear Graziella. You are great, you have achieved wonderful things and I am quite sure that you are far from done ? so – keep it up! My entry for the birthday coffee table is blueberry muffins. I prepared them a little differently, the blueberries are briefly boiled and thickened beforehand and then come as a layer between the dough. Works as both a muffin and a loaf cake! Lemon is also in the batter, then blueberries and lemon go great together, I think. So, grab some blueberry muffins and let's go!"
Ingredients:
120 g butter
120 g sugar
zest of half an organic lemon
2 eggs
1 tsp vanilla extract
125 ml milk
2 tbsp. sour cream
210 g flour
half a packet of baking powder
pinch of salt
120 g blueberries
Preparation:
Cream the butter with the sugar. Add the sugar and continue beating until it dissolves in the mixture. Then add the eggs, salt, vanilla and lemon zest and proceed in the same way.
Mix the milk and sour cream into a smooth mixture. Combine the flour and baking powder, then add to the batter alternately with the milk and mix until just combined.
Put the blueberries in a saucepan and bring to a boil. Bind with about 1 tablespoon of starch (dissolve the starch in water beforehand). Line a muffin tin with the liners and pour about a tablespoon of batter into each tin, covering the bottom. Then spread the blueberry sauce on top. Spread the rest of the dough on top. Bake in the oven at 175 degrees for about 20 minutes – feel free to check the muffins beforehand and make sure to test them with a chopstick.
If you like, you can make a glaze from the lemon juice and powdered sugar and spread it over the blueberry muffins. Enjoy your meal!
"Over time, a great friendship has developed. Numerous settler game evenings, delicious food, joint excursions – even two moves have been able to damage this friendship. So you look forward to every reunion all the more. In June it's finally that time again and I can't wait!
Much love and have a wonderful time,
your Recipelabs"